AJAC Crowns 2023 Canadian Car and SUV of the Year
The 2023 Canadian Car of the Year and Canadian Utility Vehicle of the Year were crowned this morning by the Automobile Journalists Association of Canada (AJAC).
The award presentation was held during the opening ceremonies of the Canadian International AutoShow in Toronto, which returns after a two-year absence caused by the COVID-19 pandemic.
The three finalist cars and utility vehicles were qualified from among the 12 category winners announced last month at the Montreal International Auto Show.
2023 Canadian Car of the Year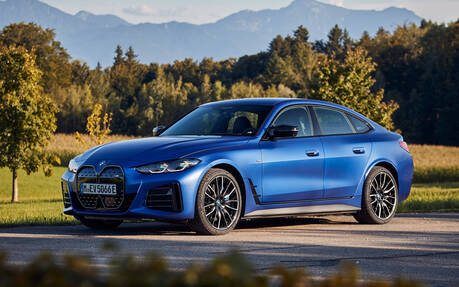 Taking the torch from the Honda Civic, the Canadian Car of the Year for 2023 is the BMW i4. Also considered for the award were the Mazda3, which won it in 2021, and the Hyundai Elantra N, a high-performance version of the Korean compact sedan.
The i4 is BMW's response to the Tesla Model 3 and Polestar 2. This fully electric compact sedan is available in two configurations including rear-wheel drive with 281 hp or 335 hp and all-wheel drive with 469 hp (or 536 hp in Boost mode). Maximum range can be a long as 484 km. What's more, despite their luxury status, the i4 eDrive35 and eDrive40 models both qualify for a $5,000 EV rebate from the Canadian government (plus provincial incentives where applicable).
As a reminder, the Acura Integra was named the 2023 North American Car of the Year by a jury of 50 Canadian and U.S. journalists last month.
2023 Canadian Utility Vehicle of the Year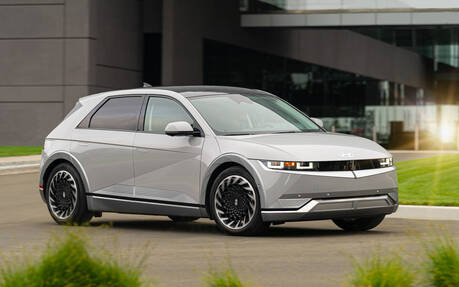 Moving over to SUVs, one year after the conventionally powered Hyundai Tucson won top honours, the all-electric Hyundai IONIQ 5 took home AJAC's 2023 Canadian Utility Vehicle of the Year award. It beat out another Korean model, the three-row Kia Telluride, as well as the Mitsubishi Outlander, which offers a next-generation PHEV variant for 2023.
The boldly styled IONIQ 5 comes standard with a 58kWh battery and can travel up to 354 km. Opt for the larger 77.4kWh battery, and you'll be able to cover 428 km in AWD configuration or 488 km in RWD configuration. It's also an EV you can tow with—up to 2,000 pounds—though at the expense of range.
Along with the Kia EV6, the IONIQ 5 is the best buy in the electric car/crossover segment for 2023 according to our team at The Car Guide. It's also one of the most liked vehicles in 2023 according to Consumer Reports. Last year, it even won the prestigious 2022 World Car of the Year award.