Hyundai N Vision 74 Concept and RN22e unveiled in Toronto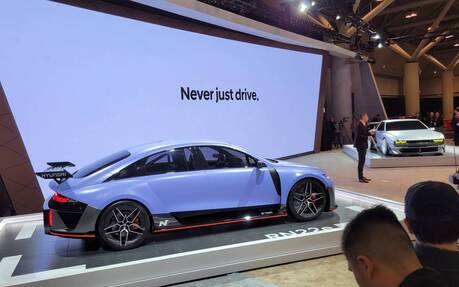 The Canadian International Auto Show has officially kicked off in Toronto and Hyundai took the stage with two of its newest creations, the N Vision 74 Concept and the RN22e race car. While we got the chance to see the N Vision 74 Concept in Los Angeles during the auto show at the end of last year, Toronto was the RN22e's first auto show appearance on North American soil.
Hyundai calls these concepts "rolling labs" where engineers push the boundaries of electrified technologies to see how they evolve in performance and racing settings.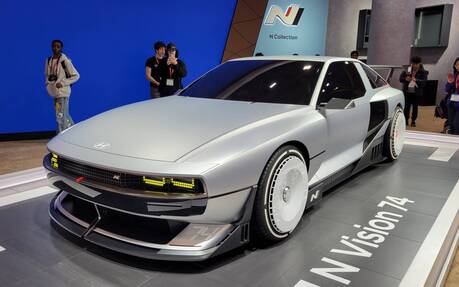 Batteries and Hydrogen Tanks
The N Vision 74 Concept is based on the 74 Pony Coupe Concept that never made it to production. It is powered by the combination of battery-electric and hydrogen fuel cell technologies. It features a 62.4kWh battery pack, and two independent motors for each rear wheel. The output sits at 661 horsepower and 664 lb-ft of torque.
What's interesting about this concept is that although you can fill its hydrogen tanks in only 5 minutes, it retains its 800V fast-charging capacity to provide flexibility depending on the use of the vehicle – whether it be a full track day or just commuting to work.
"Hydrogen provides range. Endurance cars that race for 24 hours need range, and that's something that is currently impossible for battery-electric vehicles at the moment," vice-president and head of N brand and motorsport subdivision Till Wartenberg said when we asked him what hydrogen could bring to the world of racing. "The N Vision Concept 74 can be refueled in 5 minutes and has more the 600 kilometres of range," says Wartenberg.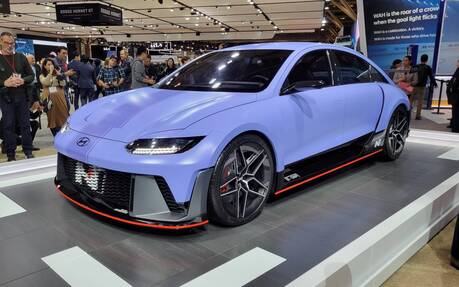 Also on the menu was theR22Ne, which is basically a code name for what an N-badged Ioniq 6 could look like. It uses the E-GMP platform with a dual-motor setup to output of 575 horsepower and 540 lb-ft of torque. Both motors are fed by a 77.4 kWh battery pack.
The R22Ne is dubbed the "corner rascal" by Hyundai, thanks to e-TVTC (electronic Torque Vectoring by Twin Clutch) that makes it possible to customize torque and power of all four wheels.
The Hyundai Ioniq 5 N is Coming
The Korean manufacturer also released the official date when the N-badged Ioniq 5 will hit the market. This will be the first full-electric N model. We don't know what the final production car will look like just yet, but Hyundai promises that it will be released in early 2024. The Canadian International Auto Show was also host to the AJAC's yearly awards, where the Ioniq 5 won the Canadian Utility Vehicle of the Year award.