You'll Need $3M to Buy the First 426 HEMI-Powered Plymouth Cuda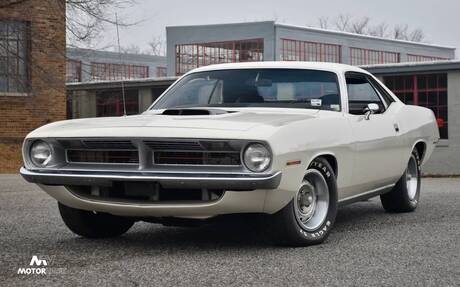 Any muscle car fan out there will probably be interested to know that the very first production Plymouth Cuda to feature a 426 HEMI V8 is now for sale via Motor Vault where it's listed at a whopping $2.2 million USD, or just shy of $3 million CAD.
The legendary 7.0-litre engine had made its mark in 50 track-purposed Barracudas that won multiple races from Detroit to California to Indianapolis in 1968 and 1969, giving Chrysler executives many reasons to drop it into the  street-going car a year later.
More specifically, the 426 HEMI V8 ended up in the sporty Cuda variant of the new E-Body platform, generating 425 horsepower and a massive 490 pound-feet of torque. The first unit was this one, a 1970 model with chassis number BS23R0B100003 and an Alpine White exterior with Stripe delete.
The interior is almost entirely black. Some of the exceptions include the wooden steering wheel and shifter, the latter featuring the iconic Pistol Grip and controlling the four-speed manual transmission.
The odometer only has 17,755 miles (28,573 km) since the car has spent most of its life in a Auburn, Indiana museum after being acquired by the current owner in 1983. It has been repainted once (in its correct colour) but never restored, as the stone chips and cracked leather show.
Take a good look at this piece of American automotive history in our photo gallery at the top of the page. And if you have a cool $3 million to spare, you know what to do