Pininfarina Battista Breaks Two World Acceleration Records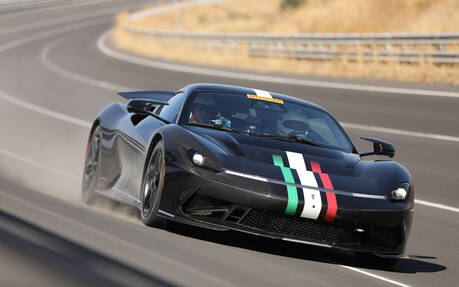 The Pininfarina Battista is now the world's quickest-accelerating production car after a recent session on the NATRAX circuit in India, where it ran the quarter-mile in 8.55 seconds and the half-mile in 13.38 seconds.
The company teamed up with the Indian arm of British magazine Autocar. The publication's editor, Hormazd Sorabjee, was behind the wheel and he managed to achieve a top speed of 358.03 km/h at one point.
"It's like being shot from a cannon," Sorabjee said afterwards.
Writer Renuka Kirpalani also took a shot and made the most of it. With a top speed of 357.10 km/h, she officially became the fastest Indian woman driver on the planet.
The record-breaking feats were verified with a VBOX data logger system. The car, by the way, was riding on Michelin Pilot Sport Cup 2R tires.
Equipped with four electric motors generating a total of 1,900 horsepower, the Battista uses a 120kWh battery supplied by Croatian manufacturer Rimac, whose Nevera also excels at going extremely fast. The Italian coupe reached 60 mph from a stop in 1.79 seconds on the Nardò test track last year.
Production will be limited to 150 handcrafted units globally. Pfaff Automotive Partners in Vaughan, Ontario has the exclusive distribution rights in Eastern Canada. Pricing is said to start at around $2.5 million.
Watch: Pininfarina Battista Makes Global Debut