2023 Dodge Challenger SRT Demon 170 is a 1,025-Horsepower Sendoff
A few months before the Dodge Challenger as we know it officially bows out, the company today unveiled the most wicked and most explosive iteration ever, with more than 1,000 horsepower on tap. Talk about going out with a bang.
The all-new 2023 Dodge Challenger SRT Demon 170 made its debut at a special event in Las Vegas. It's the seventh and final "Last Call" special-edition model designed to please muscle car enthusiasts.
Mind-Blowing Numbers
Under the hood of this sensational monster is a thoroughly revised version of the supercharged 6.2-litre V8 that powered the 2018 Challenger SRT Demon. In fact, Dodge says only the camshaft design is identical.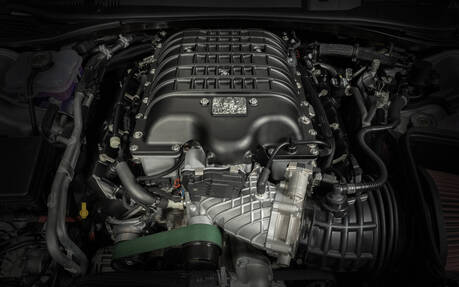 Thanks to a 3.0-litre supercharger, the Demon 170 generates up to 1,025 horsepower along with 845 lb-ft. of torque when running on E85 fuel. The numbers drop to 900 horsepower and 810 lb-ft. when using E10 gasoline, which still defies logic. The car's PCM unit automatically detects the proportion of ethanol and adjusts output accordingly.
As you'd expect, the eight-speed automatic transmission is specifically calibrated to handle the extra power and torque. Dodge claims 0-60 mph (97 km/h) sprints can be achieved in a insanely short 1.66 seconds, while the quarter-mile run takes a mere 8.91 seconds, making the Challenger SRT Demon 170 the first production car on the planet to complete the distance in under nine seconds.
Weight Optimization
If you take a look at the pictures, you'll see that Dodge designers did away with fender flares up front, a move that helped save 7 kg. The rear tires are Mickey Thomson ET Street R units in a 315/50R17 size—the first time ever they're mounted on a production vehicle—while the front ones come in a 245/55R18 spec.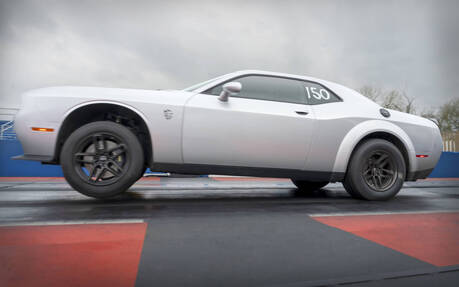 Optionally, customers can select aluminum and carbon fibre wheels made by Lacks Enterprises, reducing weight by another 71 kg versus the Challenger SRT Hellcat Redeye Widebody. Many additional weight-saving measures were used by engineers in order to make the Demon 170 as lightweight as possible.
Asesthetically, the car further stands out with a massive hood scoop and larger air intakes in the front grille. The Demon badges are also different from those that were affixed to the original launched five years ago. As many as 14 body colours can be specified.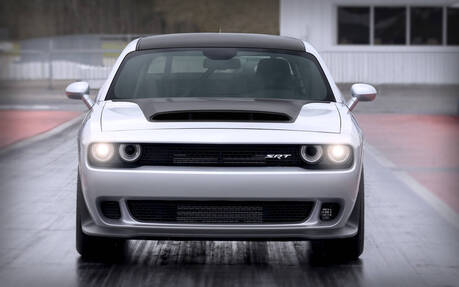 Staggering Price
Unsurprisingly, the new 2023 Dodge Challenger SRT Demon 170 is the most expensive ever with a price tag of $96,666 in the U.S. and $130,890 in Canada, not including freight and PDI.
Dodge executives are aiming to build 3,000 units for the U.S. market and 300 units for Canada, depending on production capacity in Brampton, Ont. and constraints in the supply chain. We'll find out by the end of the year if these targets are met.
One more thing: current Challenger SRT Demon owners will get first dibs on units that match their chassis number, a nice touch for collectors.