2023 Genesis Electrified GV70 : Skillfully Executed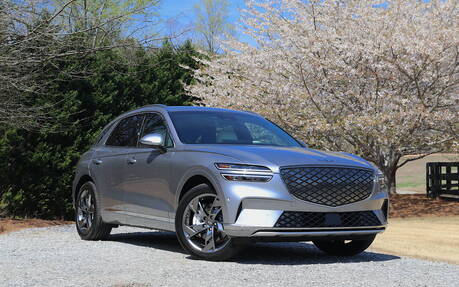 The GV70 is the most popular model in the Genesis lineup. Hence, after the G80 and the GV60, the arrival of a 100% electric version in the current context is very important. Unlike many manufacturers who tend to drastically differentiate their battery-powered vehicles in terms of looks, it's harder to distinguish the Electrified GV70 from its gasoline-powered sibling. If you look closely, you'll notice that the grille bears a slightly different pattern and houses the charging port.
Knowing that this layout can cause problems for Canadian drivers due to snow or ice build-up, we asked Genesis if the port was heated. Fortunately, it is, which should simplify charging in the winter. Since an electric vehicle needs less cooling, the lower part of the front bumper has been redesigned with fewer openings. At the rear, the absence of exhaust pipes also forced the designers to rethink the design. The last notable change can be found in the 20-inch wheels, which are exclusive to the electrified GV70.
429 Horsepower… or 483 for a Few Seconds
Based on an aluminum chassis, the Electrified GV70 uses a 77.4 kWh battery that is already found in other Genesis, Hyundai or Kia products. Connected to a 350 kW fast-charging station, the vehicle can recover 100 km of range in just 5 minutes and go from 10 to 80% of its range in 18 minutes. Using a Level 2 (240 V) charging station, it takes about 7 hours to completely charge the battery, which sends its electrons to two motors, one at the front and the other at the rear, each outputting 160 kW.
These give the GV70 a combined output of 429 horsepower and a maximum torque of 516 lb-ft. However, just like the GV60, a "Boost" button unleashes an additional 483 horsepower for 10 seconds. Torque remains the same at 516 lb-ft. With this amount of power, the battery-powered GV70 is capable of sprinting from 0 to 100 km/h in just 4.2 seconds. Buyers who need to tow will be pleased to know that towing capacity is similar to that of a gas-powered GV70, at 3,500 lbs. Kudos to Genesis on this one, considering some electrified vehicles aren't even rated for towing.
Same on the Inside
In the cabin, differences are (again) minimal. The main change is the white leather interior, which is specific to the Electrified variant. For families who don't think white is a good idea, it is possible to opt for black. On the three-spoke steering wheel, which is also identical to the top-of-the-line gasoline models, you'll find the "Boost" button on the lower spoke. For the rest, the Electrified GV70 offers a warm, very well-built environment dressed with high-quality materials. The controls are generally intuitive, even if the touch screen can be difficult to reach. The seats are very comfortable, allowing you to drive on long distances without feeling excessively tired. The 813-litre trunk (1,601 litres with the rear seats folded) can accommodate an appreciable amount of luggage.
Soundproofing
Genesis is known for the quality of the soundproofing in its vehicles, thanks in part to a particularly effective parasitic frequency reduction system. The Electrified GV70 beautifully encompasses this technology, with an absolutely remarkable silence.
And contrary to what one might think, an electric vehicle is not always silent. The absence of a combustion engine removes some of the noise, but noise from the wheels, suspension and wind can still become unpleasant to the ear. None of that is true here, as the battery-powered GV70 does a great job of keeping the outside world out of its occupants' ear drums.
The roads around Atlanta were in much better condition than those in Quebec, but we did encounter a few construction zones where the holes and bumps were very similar to ours. On the road, the high power output combined with instantaneous acceleration provides breathtaking performance. So much so that my driving partner dropped his phone when I first stepped on the gas, and even though Genesis insisted on the relevance of its Boost mode for passing, this feature is not very useful in everyday driving. No matter how fun it is to press it from time to time to take advantage of the engines' full power, pressing the accelerator pedal at 50% without Boost mode is already plenty.
As for handling, the Electrified GV70 is less agile than a more compact GV60. And although the vehicle manages to hide its 2,260 kg weight rather well, the 200 kg difference with the gasoline model is felt a little when you push it in the corners. Like many of today's electric vehicles, the GV70 can be driven in one pedal mode, and the system works well most of the time, provided you are in Eco or Comfort mode. At the end of our test drive, we recorded an average energy consumption of 18.9 kWh/100 km, which would have allowed us to cover 410 km on a single charge. Considering that the advertised range is 383 km and that the outside temperature was between 15 and 20°C, the GV70's energy efficiency is convincing.
Fixed Price, No Options
Faithful to its (young) roots, Genesis sells its Electrified GV70 at a fixed price. The vehicle comes fully equipped and without options at a cost of CAD $84,000 (including shipping and preparation). At this price, it is not possible to take advantage of government incentives. The price may seem high, but considering the large amount of equipment provided, it's hard to blame Genesis. We would have loved to see a more affordable version in Canada, however, as is the case in the U.S.
GV70s delivered in the U.S. will be manufactured in Alabama. But Canadian models will still be made in South Korea. According to Genesis' people, this will allow them to deliver more vehicles to the country, since American deliveries will no longer depend on the South Korean plant. Will this be enough to supply enough vehicles on our side of the border? We shall find out soon, since the first models are scheduled to be delivered to Canada in the next few weeks.
Test drive report
Test model

2023 Genesis GV70

Trim level
Electrified
Price range
$57,500 – $84,000
Price as tested
CA$84,000
Warranty (basic)
5 years/100,000 km
Warranty (powertrain)
5 years/100,000 km
Fuel economy (city/highway/observed)
N/A
Options
N/A
Competitive models
Acura RDX, Alfa Romeo Stelvio, Audi Q3, Audi Q5, BMW X3, BMW X4, Buick Envision, Cadillac XT5, Infiniti QX50, Infiniti QX55, Jaguar F-PACE, Land Rover Discovery Sport, Land Rover Range Rover Evoque, Land Rover Range Rover Velar, Lexus NX, Lincoln Corsair, Maserati Grecale, Mercedes-Benz GLC, Porsche Macan, Volvo XC60
Strong points

Great soundproofing
Excellent ride comfort
Riveting accelerations
Well-appointed cabin with upscale materials

Weak points

Only one (expensive) trim available in Canada
One-pedal driving can be difficult in Sport mode

Editor's rating
Fuel economy
The GV70 Electrifed was efficient during our drive in temps hovering around 15 and 20 degrees Celsius.
Comfort
Plush seating and well-calibrated suspension.
Performance
More powerful and reactive than the gas-powered GV70.
Infotainment
Good interface.
Driving
It's more comfortable than sporty.
Overall
Powerful, comfortable and well assembled, the GV70 Electrified is a convincing product. Unfortunately, it's very expensive.