Podcast: The Good, the Bad and the Ugly of the Subaru Solterra (and Toyota BZ4X, and Lexus RZ!)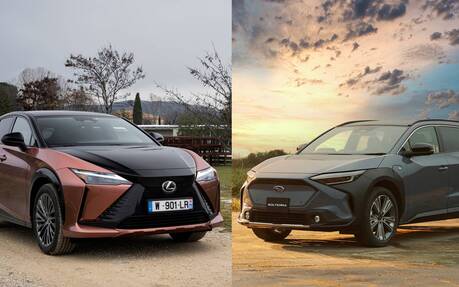 There's a lot of buzz around the 2023 Subaru Solterra. It's the first large-scale production vehicles for the manufacturer, and it sits on the same platform as the Toyota bZ4X and the Lexus RZ.
LP and Gab are spicing things up for this 10th episode of The Car Guide Podcast and start by giving their respective driving impressions on the 2023 Subaru Solterra and the Lexus RZ, while looking at what these models share among themselves, but also with the Toyota bZ4X. In terms of packaging, the Solterra caters to the needs of a broad class of drivers.
According to LP, performance, driving dynamics and versatile are on point for the Solterra, but charging may become a problem for the typical Subaru driver in thirst of adventure. Gab praises the RZ's performance, but the yoke steering option, interior finish and pricing are causes for concern. Gab also gives his impressions of the 2023 Land Rover Range Rover Sport.
The Car Guide Podcast EP10 (full episode)
Otherwise, things are moving in the auto industry in Canada. Volkswagen has cemented its battery plant deal in Ontario and chose to build a facility in St. Thomas. Nova Scotia has also received good news for its auto sector, thanks to Michelin's plans to invest in its three manufacturing facilities.
Finally, Gab gives us all the details on the 2024 Kia EV9, the long-awaited three-row SUV that was unveiled in Seoul, South Korea. Gab was on site and describes the design (which was made possible by a Canadian designer Karim Habib), as well as everything we can expect from this new addition to the Kia family. Gab also delivers the details on Audi's new ActiveSphere Concept.