Audi to Rename Most of its Lineup Amidst EV Transition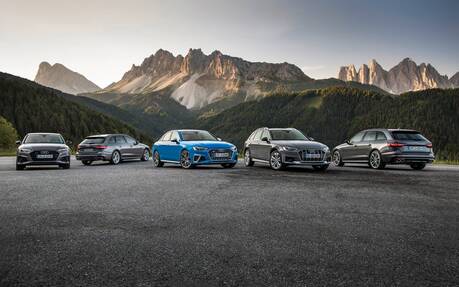 The shift to electric vehicles comes with a major transformation of how the auto industry operates while also changing the habits of consumers and drivers. This includes vehicle names.
Speaking to German newspaper Heilbronner Stimm a few days ago, Audi CEO Markus Duesmann explained that the current nomenclature will be revised to create a distinction between its conventionally powered vehicles and fully electric ones.
"We are expanding our product portfolio with new electric-drive models and that is why we are restructuring our naming conventions," he said. 
Passenger cars will continue to start with the letter "A" and crossovers will retain the letter "Q." However, the digit that follows will now be used to identify whether the vehicle has a combustion engine (odd number) or electric powertrain (even number).
The process has already begun, mind you. The e-tron has been renamed Q8 e-tron (pictured above), which means the regular Q8 will likely join the Q7 lineup at some point—unless Audi decides to add a "Q9" moniker.
Want another example? We know that the next-generation A4 sedan will offer both powertrain options on the same platform, so the gas-powered variant will probably be called A5 (joining the existing coupe), while the electric variant will simply become the new A4 or A4 e-tron.
Speaking of which, what's the point of keeping the "e-tron" designation then? Good question. Audi is not yet saying if or when it might be dropped. We're also curious to find out what the current e-tron GT will be called in the future.
There will certainly be some confusion among consumers for a while, but Audi thinks this is the right move going forward. And it's not alone.
German competitors BMW and Mercedes-Benz are also considering new model names for their respective lineups. Rumour has it that the latter wants to get rid of the "EQ" letters as early as next year even though we're just getting used to them.
Watch: 2023 Audi Q8 e-tron Review