2024 Hyundai Kona: We Have All the Specs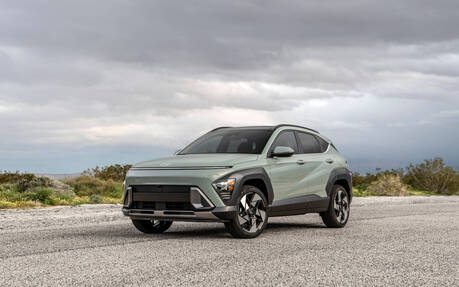 Hyundai came to the New York Auto Show today to host the North American debut of the next-generation 2024 Kona—including the gas-powered and fully electric variants—and provide more details about it.
This comes a month after the design was revealed in a presentation in South Korea, which The Car Guide attended.
We now have all the important specs that were missing such as the new Kona EV's range. According to Hyundai, drivers will be able to travel up to an EPA-estimated 418 km with a full battery. Incidentally, charging the 64.8kWh battery from 10-80 percent via a DC fast charger (the output of which is unspecified) will require 43 minutes.
The 2024 Kona is now rated at 201 horsepower (same as before) and 188 lb-ft. of torque (a shocking drop of 103 lb-ft., matching the Kia Niro EV's figure). It offers several drive modes, one of which enables one-pedal driving, as well as smart regenerative braking that takes into account traffic conditions, and V2L capability allowing users to power electronic devices or small appliances using the vehicle's battery.
Active grille shutters up front help with cooling or aerodynamics depending on the situation. They open up whenever the EV components under the hood need to be cooled, but other than that they stay closed to reduce drag and improve range.
Two Gasoline Engines
Similar to the outgoing model, the 2024 Hyundai Kona comes with a selection of two four-cylinder gasoline engines. The first one is a 2.0-litre unit producing 147 horsepower and 132 lb-ft. of torque through a continuously variable transmission. Those specs are unchanged.
The sportier Kona N Line, meanwhile, retains a turbocharged 1.6-litre engine that delivers 190 horsepower and 195 lb-ft. of torque. Here, output is down 5 horsepower. Also, the seven-speed dual-clutch transmission has been replaced by a conventional eight-speed autobox.
The new Kona happens to be the first Hyundai vehicle in Canada to offer a digital key, meaning owners can access and start the vehicle using their smartphone or smartwatch as a key. Over-the-air updates will keep the infotainment system fresh on the new 12.3-inch centre touchscreen.
One last thing we need to mention is interior space. Cargo capacity is significantly improved, with 723 litres behind the rear seats and 1,803 litres behind the first row.
The 2024 Hyundai Kona will go on sale this summer, while the Kona EV is slated to arrive early next year. Pricing will be announced closer to launch.