Hyundai
IONIQ 5

Disney100 Platinum: Even Mickey Has His Electric SUV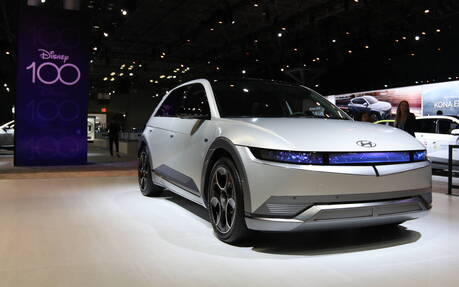 Disney is turning 100 this year and has chosen Hyundai as the exclusive North American automotive sponsor for its Disney100 celebration.
Those who watched the Oscars last month may have caught the 60-second commercial starring the Hyundai Tucson and IONIQ 5 along with many popular characters from the Disney universe. This week at the New York Auto Show, the magic continues with the introduction of a concept called IONIQ 5 Disney100 Platinum.
It's the first time that Disney has opened the doors to their Imagineering design studio and granted access to its iconic characters for an artistic collaboration with an automaker. The result is much different from the Minnie Van Odyssey that Honda released back in 2017, that's for sure.
The Hyundai IONIQ 5 Disney100 Platinum Concept stands out with exclusive Gravity Gold paint in a matte finish and "Disney100 Platinum Edition" badging.
Then there are unique-looking wheels with a motif inspired by Mickey Mouse's ears, as well as lamp screens with Disney sparkle animations across the headlights and taillights.
Inside the vehicle, "Disney100" logos can be found on the floor mats, front seat headrests and centre console. The outline of Mickey's head is repeated across the door panels. A Disney-themed intro flashes on the touchscreen upon turning the car on, complete with iconic Disney music and the "Disney100 logo."
As a final touch, a synchronized light show further adds colour to the cabin, while the etching details on the moonroof are inspired by pixie dust.
Hyundai plans to build a very small number of units—likely with different features—for the U.S. market only. Hyundai Canada told us that none will make it here.
That's fine. To be honest, we're much more excited about having the upcoming IONIQ 5 N, a high-performance version of the electric crossover due for 2024 with around 600 horsepower. We'll keep you posted as soon as we have more details to share about that one.