Podcast: Mazda CX-90, BMW M2 and New Toyota Prius Prime Driving Impressions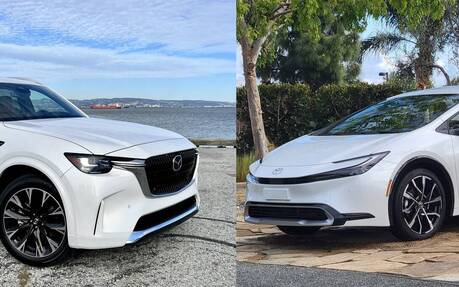 On the last episode of The Car Guide Podcast, LP and Gab talk about two very important mainstream models that they drove in the last weeks: the 2024 Mazda CX-90 and the 2023 Toyota Prius Prime. Gab also had the opportunity to drive something more exclusive: the all-new 2023 BMW M2.
After the driving the 2023 Toyota Prius in its traditional form, The Car Guide was invited to drive the Prime version, which is the model that can be plugged in, recharged and driven using electric power exclusively. The Prius gets a completely revamped exterior style, with more fluid lines and upgraded aerodynamics. Its new powertrain gets more power and more electric range at 72 kilometres instead of the outgoing model's 45 kilometres. LP says the Prius Prime is more fun to drive than every before, thanks to the performance boost but also thanks to enhanced driving dynamics. Inside, the Prius Prime receives more technology, with a new infotainment screen and an upgraded interface.
Gab was thoroughly impressed by the new Mazda CX-90, not only because of its overall exterior style and interior comfort, but also because of its drivability. Gab underlines that the powertrain delivers smooth and balanced power thanks to the inline-six ICE engine combined with the electric motor. The CX-90 is also very interesting from a pricing standpoint.
Listen to the test drive segment from the latest episode of The Car Guide Podcast here: