Europe-Only Shelby
Mustang Mach-E

GT Unveiled With Fake Engine Noise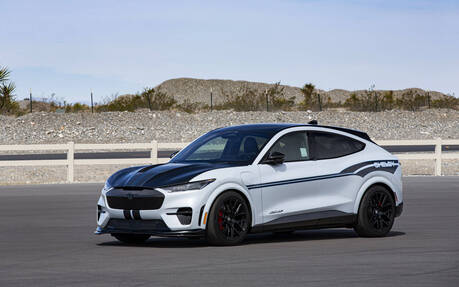 Shelby American, which is well known for its modified Ford Mustangs and F-150s, has just unveiled its version of the Mustang Mach-E GT electric crossover. In a surprising twist, the limited run of 100 units (in honour of Carroll Shelby's 100th birthday) will be exclusive to the European market.
The company explained this curious decision by pointing to the much faster growth of EV sales and public EV chargers across the Atlantic.
So, what's special about the Shelby Mustang Mach-E GT? If you're thinking extra power, guess again. It's neither more potent nor quicker off the line than a stock Mustang Mach-E GT built by Ford—or the GT Performance Edition sold in Canada. The same 480 electric horses return, sprinting from 0-100 km/h in less than four seconds.
However, Shelby American fitted new lowering springs that drop the vehicle's ride height by an inch, lighter wheels in a satin black finish, as well as several carbon fibre components (hood, front lip spoiler, grille, mirror caps, lower door trim) that further reduce weight. All this makes the Mach-E GT a sharper and better-handling crossover.
The addition of racing stripes on the sides and along the centre was a no-brainer, but here's something that might leave some fans scratching their heads: a Borla-designed "Active Performance Sound System" using external speakers that mimic the engine and exhaust note of an ICE-powered car. Wonder what it sounds like? Watch this:
Shelby American says the package costs $24,900 euros, which is the equivalent of $37,500 CAD. Customers must already have a 2021-2023 Mach-E GT or order one within the 2023 calendar year.