Watch: Hyundai Has Just Solved All Parking Problems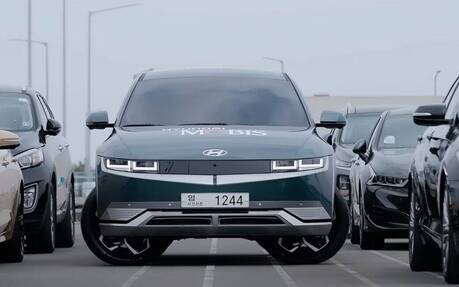 We saw Hyundai put a driverless IONIQ 5 to the test in the streets of Las Vegas back in January, but this week the Korean automaker conducted the first on-road demonstration of a technology that promises to solve all parking problems.
Developed by Hyundai Mobis, which specializes in innovation and mobility solutions (the same company that's working on rollable touchscreens), the new e-Corner system allows the four wheels to pivot up to 90 degrees and thus enables the vehicle to move sideways—seemingly making a mockery of the GMC Hummer EV's so-called Crab Walk mode.
A second function rotates the front wheels inside while the rear wheels turn outside to perform 360 degrees idle turns. Another lets the driver choose any point for central axis to rotate the vehicle accordingly, like drawing a circle using a compass.
You can see it all in the following video:
So, how does this work? The IONIQ 5 prototype uses an e-Corner module at each wheel combining the steering, braking, suspension and a small in-wheel motor. There is no mechanical link between the steering wheel and the front wheels, obviously, just wires. We're no fans of steer-by-wire setups because of the lack of steering feel and response, but given the possibilities here, we're willing to make an exception.
The e-Corner system was initially previewed way back in 2018, but it's the first time it's being tested on public roads. While not ready for production yet, Hyundai hopes to bring it to its future road cars starting in 2025. Aren't you excited?