Upcoming Honda Prologue to Feature Google Built-in, Plenty of Tech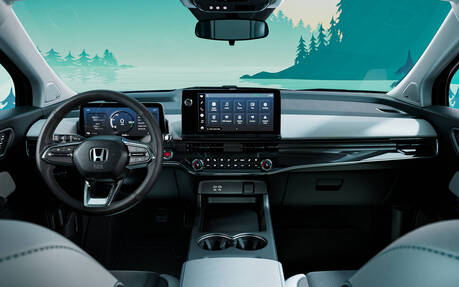 The all-new 2024 Honda Prologue, set to become the Japanese automaker's first fully electric vehicle in Canada, will be officially unveiled sometime in the next few weeks. Pre-orders will begin in the fall ahead of customer deliveries early next year.
Today, Honda gave more details about the experience that awaits users inside the Prologue. In particular, all models will be available with Google Built-in, similar to the new 2023 Accord Touring Hybrid.
This includes the Google Assistant and Google Maps, as well as a selection of connected apps and services through Google Play. Drivers who still prefer to use Android Auto won't need a USB cable. Ditto for those who rely on Apple CarPlay.
It will all come alive on an 11.3-inch centre touchscreen, just a tad bigger than the 11-inch digital instrument cluster and 7x3-inch head-up display.
When it comes to Google Maps, look for optimized route planning that takes into account charging stations along the way to minimize travel time. Google Maps can also estimate the charging time required to reach the destination and initiate preconditioning of the battery when the destination is a DC fast charging station.
Naturally, the Prologue will benefit from over-the-air software updates to key vehicle computer modules, enhancing functionality and capability.
"Having Google Built-in, Apple Car Play and Android Auto available on the fully electric 2024 Honda Prologue will make the ownership experience even better for our Canadian customers," said Steve Hui, Assistant Vice President at Honda Canada. "These in-vehicle tech collaborations allow us to offer consumers accessible and intuitive digital services, something many look for when shopping for their next vehicle." 
Other available technologies worth pointing out include a wireless smartphone charger and 12-speaker Bose sound system.
As a reminder, the platform and battery will come from General Motors thanks to a partnership with Honda that also includes the upcoming Acura ZDX. Keep following The Car Guide for more coverage of the new 2024 Honda Prologue.