Chevrolet Adjusts 2024
Blazer EV

Pricing, Timing as Units Leave the Plant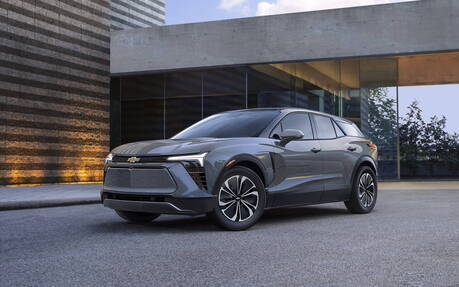 Three new electric vehicles from Chevrolet are slated to hit the market this year including the 2024 Blazer EV midsize crossover, which is a direct response to the Ford Mustang Mach-E. The first few units have left the Ramos Arizpe assembly plant in Mexico and will reach customers later this summer.
The company today provided updated pricing and timing details for Canada, so let's take a look.
We'll begin with the dual-motor Blazer EV RS AWD, which is the one that will arrive first. Starting at $73,298 including freight and PDI, it stands out with a sportier and darker appearance, 21-inch wheels with a unique finish, a flat-bottom steering wheel, ventilated front seats, heated rear seats, a heads-up display and animated exterior lighting.  
As we write these lines, official NRC range estimates are still not available, but Chevrolet says drivers can expect to travel up to 515 km with the single-motor Blazer EV RS RWD, which will enter production this fall and carry the same base price as the AWD variant. That number would put it slightly above the Mustang Mach-E.
The more affordable 2LT AWD model will also enter production in the fall. Starting at $63,298, it features a 17.7-inch infotainment touchscreen, 11-inch digital instrument cluster, heated steering wheel, Evotex seating, wireless phone charging, AutoSense power liftgate, 360-degree surround vision and more.
Chevrolet says pricing for the remaining Blazer EV trims and drivetrains will be announced closer to their launch date in 2024. That includes the 557-horsepower Blazer EV SS, which will now begin production no sooner than next spring. When the WOW (Wide open Watts) function is activated, this model can zip from 0-96 km/h in less than four seconds.
The base 2LT FWD (that's right, not RWD) that will follow next year with about 471 km of range should cost less than $60,000, making the Blazer EV eligible to federal and provincial incentives.
One last thing: Chevrolet dealers will begin converting reservations into orders for the 2024 Blazer EV 2LT AWD, RS AWD and RS RWD in late summer. Orders for the rest of the lineup will be accepted closer to their launch date.