Next BMW M3 to Feature ICE and EV Variants Side by Side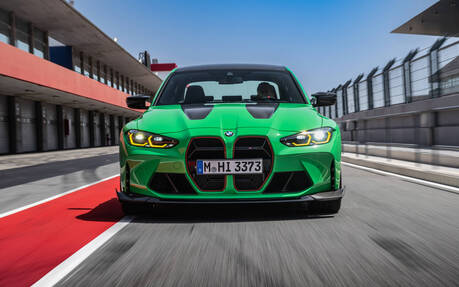 BMW is busy planning the next generation of the high-performance M3, which should arrive in 2027. We can tell you now that ICE-powered and fully electric variants of the car will coexist for at least a few years.
That's what product development chief Frank Weber told a group of journalists recently. If you remember, BMW M boss Frank van Meel previously said that the new M2 would be "the last M model with a pure combustion engine drive and also without electrification scope."
The next M3 will retain its twin-turbo 3.0-litre inline six-cylinder engine, with Weber saying that BMW "will certainly make this Euro 7-capable and other things, so it's going to happen." In fact, the engine could live on beyond 2030—just like the manual transmission, by the way. Of course, it will likely be revised and improved, possibly as part of a mild hybrid setup with a 48V battery.
The current BMW M3 delivers 503 horsepower and 479 lb-ft. of torque—or 543 horsepower in the case of the limited-edition 2024 M3 CS. Expect the engineers at BMW M to raise the bar yet again.
But hold on, because the battery-powered M3 that's also in the works will take performance to absurd levels. It will obviously follow the electric variant of the 3 Series, to be based on the Neue Klasse platform that was previewed by a similarly named concept at IAA Mobility in Munich earlier this month.
The M3 EV will use four independent motors, and although exact output is still a mystery, Weber has hinted at a capacity of one megawatt—or more than 1,300 horsepower. Try to wrap your head around that for a minute. In any case, performance will be "far above" that of today's hotter BMWs.
One of the most intriguing aspects of the car is definitely the new "Heart of Joy" control unit that will aim to provide a distinct driving experience for electric BMW performance cars and make up for the loss of character resulting from the missing engine under the hood.
BMW is not going too much into specifics for now, but hopefully the team will improve on the so-called "BMW Iconic Sound" that's already available in the i4 M50.
Watch: 2022 BMW i4 Review