2015 Toyota Rav4: The Safe Bet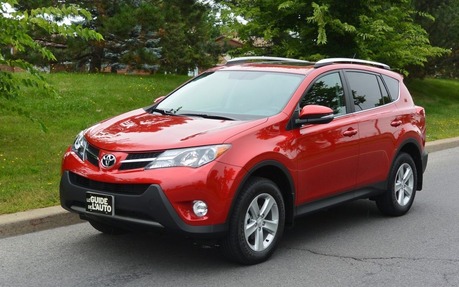 When the new Toyota Rav4 launched last year, it failed to break new technological ground and people found its exterior pretty conventional. And yet, it managed to be one of the best-selling vehicles in the compact SUV category. When it came time to refresh the Rav4, Toyota brass thought it best to use the same ol' recipe—and they thought right.
At the time, some folks decried the changes, which included doing away with the V6 engine and third row of seats, replacing its side-hinged rear door with a hatchback (a move that brought it in line with the other models on the market) and bidding farewell to the spare tire affixed to the back of the vehicle. In short, the new version had nixed all the characteristics that had set it apart from the competition. The result was a much more conventional configuration. But at the end of the day, the sales figures prove that Toyota knew exactly what it was doing. The latest Rav4 is the most popular yet.
A likeable design
In general, Toyota stylists have become much more creative of late, but they didn't overexert themselves with this model. As is often the case with this brand, the exterior didn't garner any enthusiasm at the launch, but people have come to appreciate it over time. Next time you're in the parking lot of a shopping centre, compare the 2014 Rav4 with is competitors from the same model-year.  This should be easy to do because Rav4 of this generation are plentiful. You'll quickly realize that this Toyota looks a lot nicer than many rival models. As an added plus, its "modern conservatism" means that the vehicle's lines won't be outdated in two or three years.
The design is relatively simple. At the rear, the wide, horizontal tail lights and small spoiler are the only two notable aspects. In front, the grille is both serious and modern, with the Toyota logo anchored to a U-shaped metal piece supported by horizontal bars. Tying it all nicely together is the ridge that runs along the beltline and widens towards the back.
The dashboard is not too bland thanks to the raised lower portion that breaks the monotony. However, as elegant as this ridge is, it complicates access to certain controls below it. The rest is fairly conventional, with large, easy-to-use buttons for the A/C. The gauges are easy to read with white numbers on a black background. The speedometer sits in the middle of the instrument cluster, while the smaller rev counter is located to the left. On the right is the fuel gauge. One aspect we didn't like was the narrow and hard-to read information centre located on top of the display.
The quality of the plastics is much better than in the previous version. The front seats offer a standard comfort level and the rear seats are more spacious than previously. We should also point out that the cargo hold is massive. The liftgate can be set to different heights and is power-activated on some trims.
Proven mechanics
The average Toyota driver is looking for reliable mechanics that won't fail for years. Spectacular innovation is not a priority for them—which is precisely why the Rav4 fits the bill. This generation comes with just one engine, a 2.5-litre four-cylinder with a proven track record. This time, a six-speed transmission was chosen to manage the engine's 176 ponies, and it shouldn't cause owners any headaches. The updated platform includes struts up front, which are considered essential and are in line with all other competitors. The rear has an independent double-wishbone suspension to ensure comfort and good road handling. That said, the suspension can be a little harsh in some conditions.
As expected, all-wheel drive is available on option. It's a bold system with dynamic torque control, which proves that Toyota engineers are capable of coming up with interesting and innovation solutions when they want to. The driver can select one of three modes: Auto, Lock and Sport. Auto mode sends 100% of the power to the front wheels, but redistributes it 50-50 when the wheels start to slip. Lock mode will keep the torque distribution in a strict 50-50 split. And finally, Sport mode allows for a 90-10 distribution that can vary up to 50-50. The steering is power-assisted—we wouldn't have expected anything different.
Well-behaved and reliable
Anyone looking for a versatile vehicle that is reasonably good on gas, has reliable mechanics and a reassuring resale value is a potential client for the Toyota Rav4. Thrill-seekers need not apply. But if you want an SUV as your only mode of transportation for facing all types of weather and road conditions without ever letting you down, this could be it.
The Rav4 isn't much of a show-off, but it can boast that it has no major flaws or defects. Its engine power may seem limited, but in actual fact it's not that bad—it can sprint from 0 to 100 km/h in less than 9 seconds. As for fuel consumption, we calculated an average just shy of 10 L/100 km.
The Rav4's comfort level is more than acceptable as it takes you from point A to point B without a hitch. And most Canadians will appreciate the fact that its huge trunk can carry at least two hockey bags (or even three if you stack them right). Overall, the Rav4 is a well-balanced, practical and reliable vehicle sold at a competitive price. Add to that a "no-surprises" type of ride and you've got the vehicle's keys to success. It's the sort of vehicle that grows on you the more you drive it.
Test drive report
Test model

Toyota RAV4

Trim level
4WD XLE
Price range
$25,785 – $34,775
Price as tested
33 845 $
Warranty (basic)
3 years/60,000 km
Warranty (powertrain)
5 years/100,000 km
Fuel economy (city/highway/observed)
9,1 / 6,8 / 9,8 L/100km
Options
N/A
Competitive models
Chevrolet Equinox, Ford Escape, Honda CR-V, Hyundai Santa Fe, Mitsubishi Outlander, Nissan Rogue, Subaru Forester, Volkswagen Tiguan
Strong points

Reliable powertrain
Good cargo capacity
Very able AWD
Fit and finish better than it was
Excellent resale value

Weak points

Disconnected from the road
Some commands hard to reach
Simplistic steering wheel
Useless center clock
Very average tires

Editor's rating
Fuel economy
One of the best in this segment.
Value
Good value for its price.
Styling
This design will certainly age well.
Comfort
Seats are comfortable, but the cabin could use some soundproofing.
Performance
It won't pin you to the seat.
Overall
The Rav4 is a safe bet that will take you from A to B reliably for many years.