Hyundai Avante Sport : The New Sporty Elantra?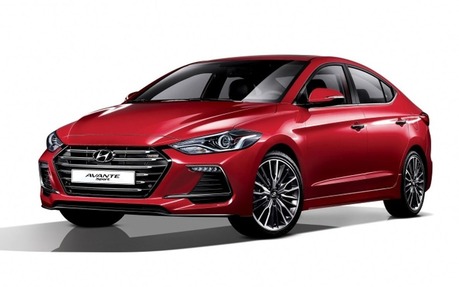 We've been hearing rumours about a more-powerful Hyundai Elantra for a while now. We know the brand was trying to reach a new, more enthusiastic audience by launching its N performance sub-brand, but we haven't heard anything about any new models yet.
The Elantra Sport was scheduled to be unveiled at the SEMA show, but thanks to international unveils, we pretty much saw it in advance.
The car you see in the above pictures is the Avante Sport. Overseas—more specifically in South Korea—the Elantra is sold under this name. So what's different from the regular Elantra? Two major things: it has more grunt and its suspension is radically different from the base model's setup.
First of all, the power: by replacing the 2.0-litre four-cylinder engine with a turbocharged 1.6-litre unit, the Avante Sport boasts 201 horsepower. This power gets sent to the front wheels through a six-speed manual transmission, although you can get a seven-speed, dual-clutch automatic if you want.
The second major difference is at the other end of the vehicle: instead of a simple torsion beam setup, the Avante Sport packs a true multilink independent rear suspension. This will obviously help the car's handling characteristics.
We don't know if the Elantra Sport will be 100% similar to the Avante Sport, but we'll know more in November when the SEMA Show opens.