2017 Subaru BRZ: Sports Car for the Masses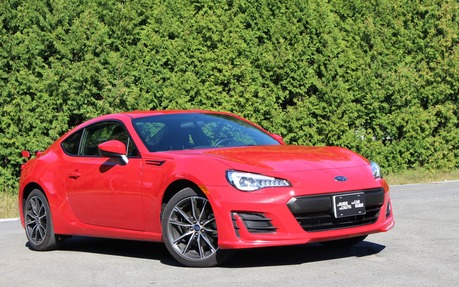 There's a difference between a sports car and a sporty car. The first one was designed from scratch to offer performance and handling characteristics, while versatility as well as comfort and convenience features aren't the priority. A sporty car, on the other hand, is a bread-and-butter vehicle that was modified to offer performance and handling as a bonus to versatility and everyday comfort.
Sporty cars could include the Nissan Sentra SR Turbo and the Honda Civic Si, for example. We could also consider the Volkswagen Golf GTI and the Subaru WRX to be sporty cars, as they're based on mass-volume models. The Subaru BRZ, however, is a true-blue sports car.
It shares its architecture, its powertrain and most of its body panels with the Toyota 86—and the recently-departed Scion FR-S—but with no other model in Subaru's lineup. The BRZ is also the brand's only vehicle that isn't equipped with all-wheel drive, at least in North America.
The rear-drive 2017 Subaru BRZ has been revised in many ways, but the untrained eye likely won't be able to distinguish it from previous model years. On the outside, LED headlights, daytime running lamps and taillights are now standard, the front bumper has been restyled for improved aerodynamics and an aluminum rear spoiler is included on all trim levels. Nothing here to justify trading in the old BRZ for a new one.
Inside, Subaru has installed a new steering wheel with different audio controls, while new materials adorn the dashboard and door panels. There's red contrast stitching and alloy pedals to spice things up, and while the overall look still isn't spectacular, it's acceptable for a low-volume sports car such as this one. The infotainment system works fairly well and navigation is standard, but the touchscreen is a little small, as is its button surfaces.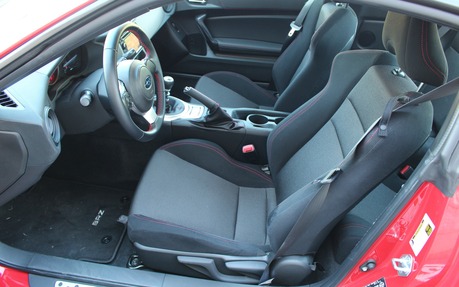 The cloth seats are supportive for sporty driving, and comfortable despite minimal adjustment options. There are rear seats in the 2017 Subaru BRZ, and they're small, obviously. The real problem is climbing in back there, tilting your head during the whole trip for lack of headroom and, especially, trying to get out without a panic attack. But it can be done. We tried it and we survived, but we don't recommend the BRZ for carpooling duty.
What's more important is how the car drives, of course. The updated BRZ received benefits from engine modifications in order to reduce internal friction. By changing the valves, camshaft and heads, the direct-injected, 2.0-litre flat-four engine gains five ponies and five pound-feet for a total of 205 horsepower and 156 lb.-ft. of torque. That's when the engine is bolted to the standard six-speed manual, because if we choose the optional six-speed automatic, the engine it's connected to is the same as last year—which means 200 hp.
The BRZ with the row-it-yourself gearbox is slightly quicker than before, as Subaru claims a 0-100 km/h time of 7.4 seconds. It might actually have to do with engineers lowering the car's final drive ratio from 4.1:1 to 4.3:1. In addition, the shifter and clutch combination feels great.
Alas, still no turbo engine for the BRZ, and we shouldn't hold our breath on that. However, 205 horsepower is more than enough for a fun ride in this car, and we could easily consider the BRZ as a sports car for beginners, because it's a lot harder to get into trouble and its limits are much closer to its drivers' than a more-powerful car.
The exceptional handling characteristics of the 2017 Subaru BRZ are what really make it shine. With its ultra-low centre of gravity, low weight and finely-tuned suspension, carving up twisted blacktop is something to look forward to on Sunday mornings, and lapping sessions at the local racetrack is also a no-brainer.
The BRZ sucks down super unleaded, but at least it's fairly efficient under normal driving. Our test week concluded with a fine average of 7.3 L/100 km.
The 2017 Subaru BRZ starts out at $27,995 before freight and delivery charges, or only a few hundred bucks more than when the car was launched four years ago. That's good. For a couple grand more, the Sport-tech trim adds comfort and convenience items such as dual-zone climate control, an intelligent key with pushbutton start, fog lights, Alcantara and leather upholstery as well as heated front seats, but no mechanical upgrades.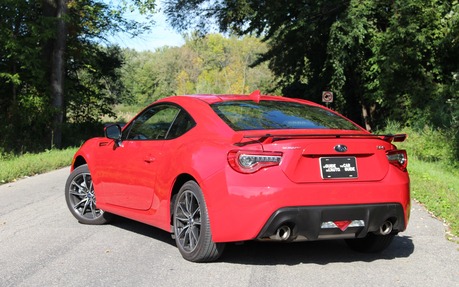 The limited-edition BRZ Inazuma Edition receives screaming yellow paint and yellow interior stitching, Brembo brakes, SACHS performance dampers and exclusive 17-inch alloy wheels, but it's more expensive at $32,695. We'd go for the base BRZ.
The BRZ won't send shivers down the spine of seasoned race car drivers, and competitors such as the Golf GTI might be a more practical and comfortable choice for the daily grind. In addition, the changes Subaru has made to the 2017 model are likely not enough for current BRZ owners to run to the dealership for a trade. However, it's still one of the most affordable pure sports cars on the market alongside the Toyota 86, and amongst the most enjoyable cars to drive for less than $30K.
Test drive report
Test model

2017 Subaru BRZ

Trim level
Base
Price range
$27,995 – $29,995
Price as tested
27 995 $
Warranty (basic)
3 years/60,000 km
Warranty (powertrain)
5 years/100,000 km
Fuel economy (city/highway/observed)
11,1 / 8,0 / 7,3 L/100km
Options
N/A
Competitive models
Hyundai Veloster N, Mazda MX-5, Nissan 370Z, Toyota 86
Strong points

Exceptional handling
Affordable price
Good fuel economy

Weak points

Tight back seat
Unimpressive infotainment system
Requires premium fuel

Editor's rating
Fuel economy
Requires super unleaded, but at least consumption is low.
Comfort
A slightly harsh ride, which is to be expected in a sports car.
Performance
Fast enough to be fun, not too fast to get us into trouble.
Infotainment
Works well, but the touchscreen could be bigger and more responsive.
Driving
Exceptional handling, especially for the price.
Overall
An affordable little sports car that's fun to drive. For beginner race car drivers in particular.