2017 Toyota Mirai at AJAC EcoRun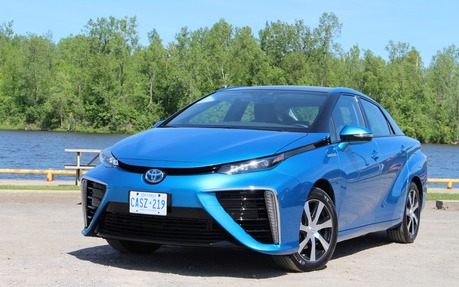 According to Toyota, like some other automakers, we must consider hydrogen as one of the energy sources of the future. Being the first to sell a fuel cell vehicle in the United States, which the consumer can actually purchase and not lease, unlike the Honda FCV Clarity and the Hyundai Tucson Fuel Cell, Toyota would very much like to convince Canadian consumers to take the hydrogen plunge.
However, before driving around in hydrogen-powered automobiles, we need a refuelling infrastructure, that's virtually non-existent in Canada as this is being written. In order to promote the Mirai and allow the automotive press to try out this unusual vehicle, Toyota decided to bring it to the 2017 AJAC EcoRun.
A handful of journalists got to drive the 2017 Toyota Mirai, and I also got that opportunity on the very first leg of the two-day event, bringing us from Ottawa to Quebec City.
First and foremost, the Mirai undoubtedly draws attention. Everyone is entitled to his or her own opinion, but let's just say that the car boasts a very unique, futuristic look—maybe a little too so. We can definitely spot a resemblance with the Toyota Prius, whose styling is also pretty unconventional.
Whatever. Once we climb aboard, we find ourselves in an environment similar to those of the brand's other products, especially the hybrid models. The car's instrumentation is placed on top of the dashboard, at centre, where everybody can see it. The centre stack is composed of a glossy black panel that houses touch-sensitive buttons, which aren't always easy to use while driving.
The Mirai can accommodate four passengers, just like the Toyota Prius Prime, while each occupant benefits from an adequate amount of room. With a volume of 362 litres, the trunk is as big as those of conventional compact sedans, but the rear seatback can't be folded down.
When we fill up the car, hydrogen is stored in two carbon fibre reinforced tanks. The oversized air intakes on the car's snout suck in oxygen and in the fuel cells, a chemical reaction between hydrogen and oxygen creates electricity. The latter feeds the electric motor that's connected to the front wheels. Filling up those tanks takes approximately five minutes, barely more time needed to fill up a regular tank of gasoline. And the only thing that gets spit out of this powertrain is water that drips out of a pipe. There's even a button on the left side of the steering wheel labeled H2O, which allows us to eject water that remains in the system. To be used before parking the car in the garage, for example.
Driving the 2017 Toyota Mirai feels much like we're behind the wheel of a fully electric car, or a bigger Prius Prime. However, we did notice a lot of faint electronic noise, whirring and buzzing when the car creeping along at slow speeds, or stopped at a traffic light. We also heard the sound of liquid flowing underneath, like a thawing refrigerator. In a more refined way.
Despite its 4079-pound (1850-kg) curb weight, the Mirai doesn't suffer performance-wise, with an output of 151 horsepower, but an interesting torque peak of 247 pound-feet. According to Toyota, the car can accelerate from 0 to 96 km/h (0-60 mph) in nine seconds, while top speed is electronically limited to 178 km/h. The Mirai's driving range is set at 500 km on a full serving of hydrogen, and its equivalent fuel economy rating is estimated at 3.5 Le/100 km.
Now, about its price. In the United States, the 2017 Toyota Mirai starts out at USD$57,500 before adding taxes and subtracting government rebates. It might include a full suite of standard features, such as automatic climate control, heated front and rear seats and a comprehensive infotainment system, that's a lot of dough for a compact-sized car. With a Toyota badge. On the other hand, the manufacturer throws in three years' or up to $15,000 worth of hydrogen, whether we purchase or lease the car.
In the next few years, we'll probably see hydrogen fuelling stations pop up across Canada, and Toyota would be more than happy to sell the Mirai in our country. We can say that it's a well-engineered sedan, but for now, this new technology is far from affordable.
See also:
2017 Chevrolet Cruze diesel at AJAC EcoRun
2017 Hyundai Ioniq Hybrid at AJAC EcoRun
2018 Lexus LC 500h at AJAC EcoRun
2017 Mazda MX-5 RF at AJAC EcoRun
2017 Nissan Versa Note at AJAC EcoRun
2017 Toyota Prius Prime at AJAC EcoRun