2018 Nissan LEAF Finally Unveiled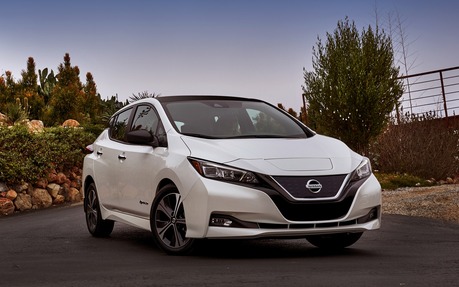 We were waiting for it for some time now. After all, it's the world's best-selling, fully electric vehicle, with more than 280,000 units sold across the globe, and 5400 sold in Canada since its launch in 2010. The LEAF successfully made its mark in a very competitive segment.
During a media event held in Las Vegas, Nevada, the 2018 Nissan LEAF was unveiled right before its "official" reveal in Tokyo. The fully redesigned model was presented, equipped with new technologies. It now offers more power, a driving range of approximately 241 kilometres as well as some of the brand's most recent innovations, such as the e-Pedal and ProPilot Assist.
The e-Pedal is a technology that emphasises one-pedal driving. When the driver presses on the accelerator, the car gains speed, but when the pedal is released the car will slow down by the friction caused by the energy regeneration system. During hard braking, the car will quickly react with the use of sensors placed around the bodywork, making the LEAF a little more autonomous.
As for ProPilot Assist, it's a driving assist system, similar to what's found in a growing number of vehicles on the market. Nissan believes this technology will serve to reduce the effort related to acceleration, braking and steering when the car is heading in a straight line. It's described as a "hands-free" driving system rather than a driving aid. It's destined for users that must confront traffic jams every day. With this technology, in the type of situation, the system allows us to take our hands off the wheel.
In short, the 2018 LEAF, which will retail for $35,998 before freight and delivery charges as well as available government rebates, brings a fresh new look to the model that was starting to show its age. In addition, some innovative features bring new levels of assisted driving. As for driving range, the manufacturer assures us that a version of the LEAF with more power and greater battery capacity should be available in 2019. In the meantime, we must do with a range of about 241 km, which isn't bad at all!