2019 Audi A8: We're Driving it This Week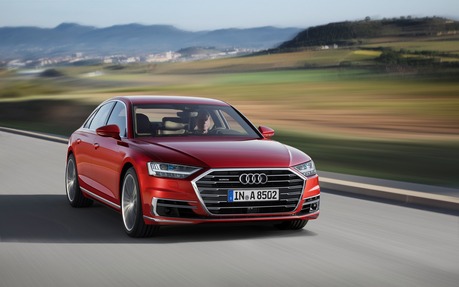 We are on our way to Valencia, Spain for the first drive of the new 2019 Audi A8. As the flagship for the brand, the A8 is loaded with technology and is the first production model capable of Level 3 autonomous driving, something we experienced first-hand during a short drive of an A8 prototype around Dusseldorf, Germany a few weeks ago. From a technical standpoint, this is a true tour de force. However, government agencies worldwide will have to amend legislation to allow the use of this technology when the car arrives on the market later in 2018.
The 2019 Audi A8 also showcases the brand's new design language, first shown on the Audi Prologue concept car, which bowed at the Los Angeles Auto Show in 2014. The signature hexagonal Singleframe grille is now much larger and extends below the headlights, while a lighted strip links the taillights, producing a sharp, almost understated look.
The cabin's layout is very sleek and also plays the tech card to the max with two high-definition colour touchscreens with haptic feedback, while Audi's configurable virtual cockpit display replaces the traditional instrument cluster. Rear-seat passengers get reclining seats with massage function, a removable electronic tablet to interact with the car's various systems and the right rear passenger even gets an ottoman-style footrest for added comfort.
Audi is also introducing a new alphanumeric designation with the new A8, which is meant to provide an equivalency between the power outputs of its conventional engines and the forthcoming hybrid-electric or fully electric powerplants. As such, the
A8 55 TFSI will be available with a turbocharged, 3.0-litre V6 developing 340 horsepower and 368 pound-feet of torque, while the A8 60 TFSI gets a twin-turbo, 4.0-litre V8 good for 460 horsepower and 486 pound-feet of torque. We expect that the A8 will also be available with a plug-in hybrid powertrain and also a W12 engine later on.
Look for a complete road test of the 2019 Audi A8 here in the coming days. Keep in touch…