2019 Mercedes-Benz A 250: Taking Entry-level Technology to Uncharted Heights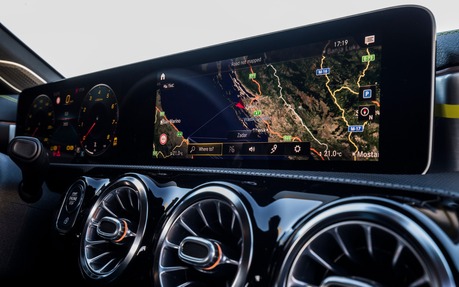 SPLIT, Croatia – The 2019 Mercedes-Benz A-Class is clearly targeting a younger demographic by placing its brand-new Mercedes-Benz User Experience (MBUX) system into its new entry-level product. This is a unique approach as that decision alone places the A-Class at the pinnacle of modern-day luxury for a compact car, separating itself from its competition, namely the Audi A3, BMW 2 Series and Volkswagen Golf GTI.
Regardless what its Canadian pricing will be set at (according to Mercedes-Benz, it will be priced below the current CLA Coupe), the MBUX system will come as standard equipment. That means every A-Class owner will get to experience a little taste of the good life, typically reserved for E- and S-Class clients.
The MBUX system is displayed off of high-resolution twin screens (standard 7-inch or upgraded 10.25-inch screens) combined to make for one stunning, free-floating continuous pane of horizontal glass that sits in front of the dash at near eye level with the passengers.
The controller wheel is gone and in its place are steering wheel buttons, touchpad, touchscreen, or voice command. The most intriguing feature is the latter that uses artificial intelligence to detect what the passenger is asking. In order to be activated and without pressing any button, a passenger simply has to say, "Hey Mercedes," or an equivalent message in 22 other languages. A woman's voice will instantly reply with, "How can I help you?" and the conversation starts from there.
It has its voice recognition issues like any Google Home, Alexa, or Siri device, but it has a long range of commands that it understands thanks to natural speech recognition and it appears better than any vehicle system I've tested before. During a first drive program for the A-Class in Split, Croatia, MBUX managed to change the air conditioning to a specific temperature, plug in an address to a destination, turn on the heated seats, and even answer a question about Tesla. It didn't always work, but owners will get used to the specific words to use when making a request.
One of the best parts about this system is that it's programmed to learn prediction features or habits of its occupants. We didn't have enough time to test this out, but you can store up to eight user profiles and MBUX will start to understand those individual tendencies such as daily or weekly destinations and phone calls, as well as preferred radio stations and interior temperature. Once it learns those habits, it will make those suggestions to you and the driver simply needs to confirm it back.
To make your new A-Class a true showcase of modern design and luxury, owners will have the chance to opt for navigation featuring augmented reality and Traffic Sign Alert. Both of these options take the A 250 to new heights with crisp front camera views of the street ahead before making that suggested turn. While making the turn, a baby blue directional arrow floats over top of that street with the street name on display within the thick arrow. In addition, house or building numbers are also pictured to assist in finding your destination, and that's something everyone can use, especially at night. If one is prone to getting lost or missing that crucial turn, these systems will save you plenty of time and potential stress.
The MBUX system featuring artificial intelligence and the optional augmented reality functions in its navigation are only a few of the highlighted technologies within the new 2019 Mercedes-Benz A-Class. In addition, there are 64 different ambient interior lights and a plethora of active safety features, easily making this upcoming A 250 an absolute technological marvel well above anything else we've seen before in an entry-level compact luxury offering.