2019 Audi A6: We're Driving it This Week!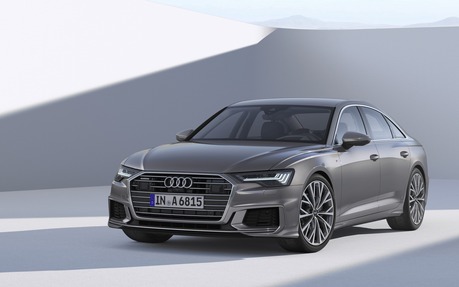 While some automakers are retiring their passenger car lineup to concentrate on SUVs, others are renewing theirs. It's the case for the Audi brand which, in the last year, introduced the 2019 A8 sedan, the 2019 A7 Sportback and, now, the A6 sedan.
A new generation of the A6 Avant has also been presented, Audi's midsize wagon model, but it still won't be available on our market. The last time we were treated to an A6 wagon was during the 2011 model year.
Audi says the new 2019 A6 sedan is more spacious than its predecessor, offering more head and shoulder room up front, while rear-seat passengers benefit from increased legroom. Trunk space is unchanged at 530 litres, but it's now wider. Drag coefficient is rated at 0.24, making the sedan one of the most aerodynamic cars on the market, which helps reduce wind noise in the cabin.
Under the hood, we'll initially get a turbocharged, 3.0-litre V6 that works in conjunction with a small electric motor that helps reduce fuel consumption. This powertrain develops 340 horsepower and 369 pound-feet of torque, managed by a seven-speed S tronic automatic transmission. Obviously, quattro all-wheel drive is standard, but a new four-wheel steering system will be available as well, which enhances the car's driving dynamics as well as agility at low speeds. According to Audi, this A6 can zip from 0 to 100 km/h in 5.1 seconds.
Last but not least, several new technologies will be found in the 2019 Audi A6, including the latest generation of the MMI infotainment system as well as an autonomous driving system that glides the car in and out of parking spots by itself.
Don't go too far away from your cell phone or computer screen, because our report on the new A6 will soon follow.