Canada's First Public Hydrogen Fuelling Station Opens in Vancouver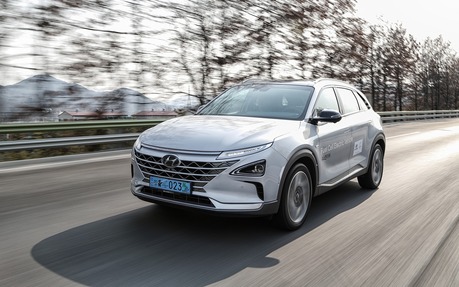 For years we've lamented the fact that hydrogen-powered fuel cell vehicles were being launched by automakers without any dedicated infrastructure to support their operation, at least in Canada.
While Hyundai leased its first-generation Tucson FCEV to select customers in British Columbia, Ontario and Quebec, we had yet to see the first retail hydrogen fuelling station accessible to the general public—until now.
An official opening ceremony took place last Friday at 8686 Granville Street in Vancouver, somewhere between downtown and Vancouver International Airport. This first hydrogen fuelling station in Canada is operated by Shell and Hydrogen Technology & Energy Corporation (HTEC), which plan to open two more sites in the area.
Representatives of Hyundai and Honda were on hand to celebrate the occasion and also give attendees the opportunity to test drive upcoming hydrogen cars including the Hyundai Nexo and Honda Clarity Fuel Cell.
"Hyundai Auto Canada has long believed that hydrogen is the best way forward to a greener future of transportation. As it only takes five minutes to fill up and has a range of nearly 600 km, hydrogen is the alternative fuel that best fits the lives of Canadians," said Don Romano, President and CEO of Hyundai Auto Canada.
The Korean manufacturer happens to be a founding member of the Canadian Hydrogen Fuel Cell Electric Vehicle (FCEV) Coalition of automakers, whose goal is to accelerate the development of infrastructure to support hydrogen-powered vehicles with the help of the government and industry-leaders.
Fuel cell vehicles don't require gasoline, and compared with most battery-powered cars, they offer better range since the motors use electricity converted from hydrogen tanks. Their only emissions are water vapour.
"We applaud Shell and HTEC for their work and investment toward building infrastructure needed to showcase the vast potential of hydrogen fuel cell technology," said Jean Marc Leclerc, Senior Vice President of Sales and Marketing at Honda Canada Inc.
Now, we just need many more hydrogen stations to become accessible across the country so we can really start dreaming about driving cool and promising cars like the Nexo, Clarity Fuel Cell, Toyota Mirai and others to come.