Infiniti's New Q50 I-LINE and Q60 I-LINE on Display in Toronto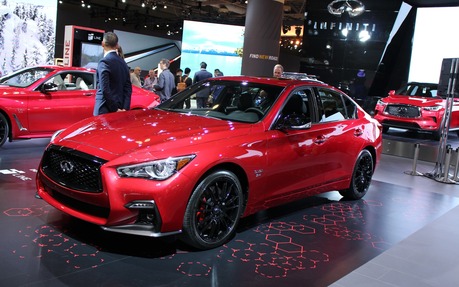 Infiniti is launching its new I-LINE editions of the Q50 sedan and Q60 coupe, which will only be offered in Canada starting next month.
I-LINE stands for "Inspired Line" and should appear on more of the brand's models in the future. The 2019 Infiniti Q50 I-LINE is based on the RED SPORT 400 variant, which means it's equipped with a twin-turbo, 3.0-litre V6 that develops 400 horsepower and 350 pound-feet of torque, a seven-speed automatic transmission and all-wheel drive. The I-LINE edition also boasts a blacked-out front grille, glossy black 19-inch alloy wheels, a carbon fibre decklid spoiler and appropriate badging. Pricing will start at $56,195 before freight and delivery charges.
Ditto for the 2019 Infiniti Q60 I-LINE, although the coupe also benefits from 20-inch alloy wheels and its MSRP is set at $65,295.
The luxury brand is also showcasing the Infiniti QX Inspiration at the Toronto Auto Show, which was initially unveiled in Detroit last month. This concept SUV signals Infiniti's future design language regarding electric vehicles, as the company is planning to launch a portfolio of performance EVs, hybrid and e-POWER (EVs with an on-board generator that charges on the go) models in the coming years.