2019 Toyota 86 TRD Special Edition: Ok, Now What?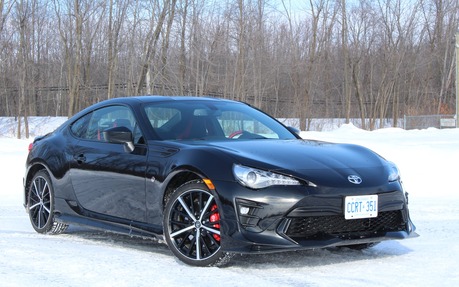 For many years, there weren't any sports cars in Toyota's lineup. The Corolla GT-S, the Celica, the MR2 and the Supra were all gone, and for some time, its sportiest vehicle was a RAV4 V6. In 2012, the 2013 Scion FR-S appeared and all of a sudden, not only was Toyota back into the sports car arena, but with the help of Subaru, it had produced a resolutely alluring little coupe.
The lightweight and rear-wheel-drive FR-S—and its Subaru BRZ cousin—amazed us with its handling prowess and general sportiness, although some members of the automotive press lamented its lack of midrange torque.
The 2019 Toyota 86—picking up where the Scion FR-S left off after the 2016 model year in North America—soldiers on relatively unchanged, but gets yet another special-edition variant to keep buyers interested. Case in point, the 86 TRD SE we recently tested. Is this enough?
Not really. The FR-S/BRZ's first year on the market was the best, and sales have been in a downward spiral since. However, the 2020 Toyota GR Supra will soon be arriving in dealerships, so now that there will be two sports cars on the brand's showroom floor, will it help the 86 regain some love? Hard to tell.
Aside from the BRZ, what does the 86 compete against? The Mazda MX-5 and the Fiat 124 Spider, for sure, although these are roadsters while the 86 is a coupe. It can also be considered a rival to the base Nissan 370Z, and an alternative to hot hatches such as the Volkswagen Golf GTI and the Hyundai Veloster.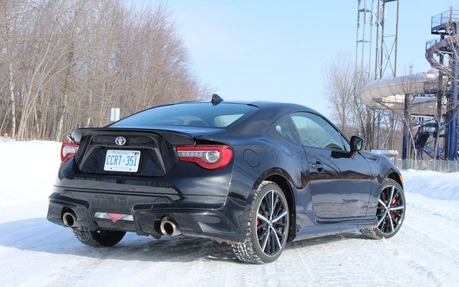 The 2019 Toyota 86 relies on a naturally aspirated, 2.0-litre flat-four engine that develops 205 horsepower and 156 pound-feet of torque—when matched to the standard six-speed manual transmission. If we choose the optional six-speed automatic, output drops slightly to 200 hp and 151 lb.-ft. No big deal.
Blastoffs are quick, but not exactly dizzying, as the car can reach 100 km/h from a standstill in 7.4 seconds. A 370Z is much faster, and a Golf GTI is quicker, too. For an affordable, pure sports car, it offers performance we can live with, because like the MX-5, what the 86 lacks in straight-line performance is redeemed with excellent handling characteristics.
For someone who's in the market for a weekend track toy, the 2019 Toyota 86 is appealing because it can be driven at 10/10ths and provide plenty of smiles around a closed circuit. The electronic stability control system includes a Track mode that's more permissive, but retains a safety net in case we overestimate our piloting talents. Subaru and Toyota also designed the coupe's trunk—or so they say—with enough room to fit a set of wheels for a quick swap at the track. Provided we fold down the rear seatback, of course.
Ah, those rear seats. They're almost useless. We say almost because no one in his right mind will want to spend more than five minutes back there, which implies that front passengers will have to move their seats way forward. Simply put, when someone is sitting in the back, everyone suffers. But it can be done.
Our TRD Special Edition variant boasted faux-suede seat upholstery with red inserts, red seat belts, faux-suede on the dashboard, a two-tone leather-wrapped wheel as well as red contrast stitching. It actually looks pretty good. On the other hand, there's little to sink our teeth into in regard to luxury appointments and high-end features. Heated seats are included in the GT trim, but not in the range-topping TRD SE. Go figure.
Still, we get stuff like dual-zone automatic climate control, an eight-speaker audio system with seven-inch touchscreen, an intelligent key system, a digital driver information display and LED headlights. The TRD SE is the only 86 to wear 18-inch alloy wheels, in addition to bring equipped with TRD performance dual exhaust system and aerodynamic body kit, SACHS dampers and Brembo brakes. It's only available in black, or a colour Toyota calls Raven.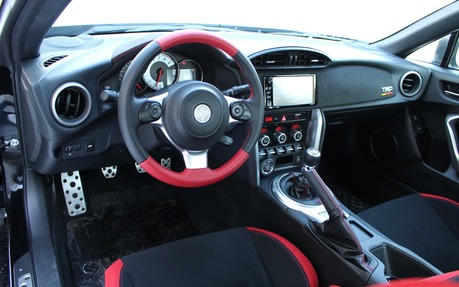 Priced at $38,220 before freight and delivery charges, this special-edition 86 is by no means cheap. The TRD isn't any more fun to drive than the base and GT versions, and on crumbling city streets, the car's bone-jarring ride quickly gets tiresome. Only 50 units of this version will be offered in Canada for the 2019 model year, which represents about 10% of the 86's production for our country at its current sales level.
We also drove the car in January, during a particularly nasty week when Mother Nature dumped snow and freezing rain in addition to blowing extremely cold temperatures in rapid succession. The rear-drive 86's booty slipped and slid the whole time, forcing us to drive with a very light right foot. The Nexen winter tires Toyota chose provided decent grip, but the stability control system plays a crucial role in keeping the car on its four wheels. As a four-season vehicle, there obviously are better choices. At least fuel economy is pretty good, as we averaged 8.4 L/100 km during the week, although super unleaded is recommended.
The 2019 Toyota 86 starts at $29,990, but curiously, the Subaru BRZ is listed at $27,995 and includes the same features, so it's easy for us to recommend one over the other. However, both are getting long in the tooth, and despite being a different type of car, the Golf GTI offers both exhilaration and versatility for only a few bucks more a month, while the MX-5's top can be dropped, which gives it the advantage of being more enjoyable in the summertime.
While the competition is getting better and better—with the exception of the very old 370Z—the 86 and BRZ are in need of a refresh, because really, what will convince the owners of 2013 to 2016 models to trade in their cars for a newer one if nothing has changed?
Test drive report
Test model

2019 Toyota 86

Trim level
TRD SE
Price range
$29,990 – $38,220
Price as tested
38 220 $
Warranty (basic)
3 years/60,000 km
Warranty (powertrain)
5 years/100,000 km
Fuel economy (city/highway/observed)
11,3 / 8,3 / 8,4 L/100km
Options
N/A
Competitive models
Fiat 124 Spider, Hyundai Veloster N, Mazda MX-5, Nissan 370Z, Subaru BRZ
Strong points

Brilliant handling
Still got the looks
Relatively affordable in base trim

Weak points

Stiff suspension around town
TRD SE variant too expensive
Lacks midrange torque

Editor's rating
Fuel economy
Pretty efficient, but super unleaded is recommended.
Comfort
Small cockpit, obviously, and the suspension is too stiff for driving around town.
Performance
Could use more midrange torque, but at least the 86's power can be fully exploited.
Infotainment
Works well, but low on features and lacks Apple CarPlay/Android Auto integration.
Driving
A pure sports car by definition, with a low overall weight and excellent driving dynamics.
Overall
A weekend track toy with limited practicality and comfort for the weekday commute.