James Bond's 1965 Aston Martin DB5 to be Auctioned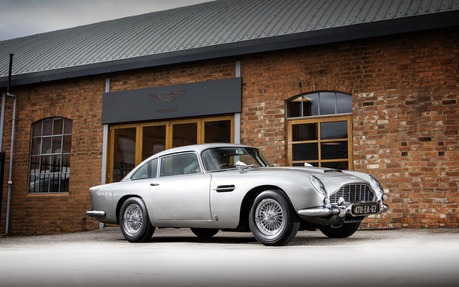 We don't know if it's "the most famous car in the world," as RM Sotheby's calls it, but the 1965 Aston Martin DB5 is arguably the British automaker's most iconic model of all time, having starred alongside Sir Sean Connery's James Bond in Goldfinger.
At a special event held by the auction house in Monterey, Calif. on August 15, one of just three surviving examples commissioned in period by Eon Productions and fitted with MI6 Q Branch specifications as pictured in the movie will be up for bid.
The Snow Shadow Gray-painted DB5 was equipped with front and rear hydraulic over-rider rams on the bumpers, a Browning .30 caliber machine gun in each fender, wheel-hub mounted tire-slashers, a raising rear bullet-proof screen, an in-dash radar tracking scope, oil, caltrop and smoke screen dispensers, revolving license plates and a passenger-seat ejection system.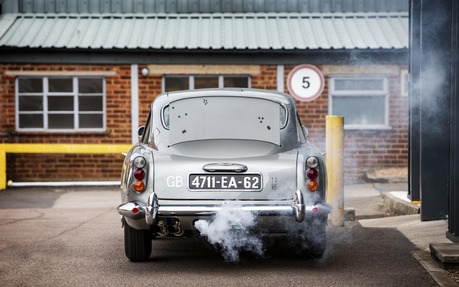 Although never used during the film, the car also included a phone in the driver's door to communicate with MI6 headquarters and a hidden compartment under the driver's seat containing several weapons.
"These DB5s are amazing," Connery said. "I remember the Furka Pass tire shredding as well as the promotional events with these cars—they have become increasingly iconic since Goldfinger and Thunderball. In fact, I bought a very fine DB5 myself relatively recently."
The car to be sold this summer (chassis no. 2008/R) stands apart with its extremely minimal chain of ownership, having had just three private owners over 50 years, including a 35-year period as the centrepiece of the Smokey Mountain Car Museum in Pigeon Forge, Tennessee.
In 2006, RM Sotheby's offered it for public sale, in a largely unrestored state. Switzerland's Roos Engineering took care of that. Not only were the chassis and body completely refinished to proper standards, but all 13 of the Bond modifications were properly refurbished to function as originally built.
"This is an unbelievably rare chance to play secret agent in a car that offers incredible performance and style in its own right and we're honoured to offer the Bond DB5 alongside our partners at Aston Martin," said Barney Ruprecht, car specialist at RM Sotheby's.
The car is estimated to be worth anywhere between $4-6 million.