Montreal's Karim Habib is Leaving Infiniti After Two Years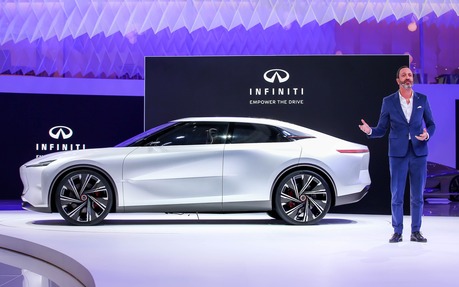 The shuffling at Nissan/Infiniti continues. Following former president Christian Meunier's decision to join FCA in May, we've now learned that the luxury brand's global head of design, Montreal's own Karim Habib, is leaving after just two years.
The press release by Infiniti says that Habib intends to "pursue other opportunities" outside of the Japanese automaker, without being more specific. The Lebanese-Canadian has not made any personal comments either, so it remains to be seen where he's going next.
"As a key member of our global design organization, Karim was a key collaborator and leader helping Nissan Motor Limited shape the electrification of Infiniti," said Alfonso Albaisa, Senior VP of Nissan Global Design.
"In addition to his work on Infiniti he was a key member of Global Design's Management Committee as we incorporated new technologies, new processes and new directions for Nissan and Infiniti. As a deeply valued member of our family we wish him continued success, happiness and all the best as he seeks new inspiration and achievements outside of Nissan."
Habib created the Q Inspiration concept and helped develop Infiniti's new design language centered around a new line of electrified vehicles. Before that, he used to work at BMW where he designed the previous-generation 7 Series.
Effective September 1, his successor will be Taisuke Nakamura, who has contributed to Infiniti design since 2018. He is responsible for the futuristic QX Inspiration and retro-styled Prototype 10 concept vehicles.
Nakamura has also worked for the Nissan brand, including the Qashqai, Gripz and IMx concepts, plus the Sentra sedan.