2020 Kia Forte GT: The Civic Si Can Rest Easy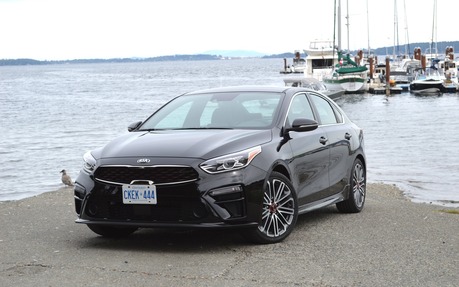 A good way to stand out from other compact cars is to offer a sporty variant. Kia does exactly that with the Forte GT, and it openly admits that this model is designed to take on the Honda Civic Si and Volkswagen Jetta GLI.
We recently attended a media launch in British Columbia and took the car for a spin, so here are our first impressions.
Turbocharged
While the base Kia Forte gets a naturally aspirated 2.0-litre four-cylinder engine rated at 147 horsepower, the GT uses a turbocharged 1.6-litre unit that increases output up to 201 horsepower along with 195 pound-feet of torque. Considering the size of the car, these numbers are more than decent. However, in terms of overall performance, there is nothing to write your mother about. It's just a compact sedan blessed with a little more spirit.
For the record, the Civic Si generates 205 horsepower, while the Jetta GLI delivers 228 horsepower.
By the way, the turbo engine makes its presence felt on the road, especially in Sport mode. Unfortunately, the exhaust note is artificially enhanced through the speakers—as is the case with the Jetta GLI and a growing number of cars across the industry, sadly.
No Manual Gearbox
Unlike the competition, the 2020 Kia Forte GT can't be equipped with a six-speed manual gearbox. The only option is a seven-speed dual-clutch transmission. We're certainly not questioning its performance, but it doesn't prove as fun to manipulate as a third pedal and a stick.
Any car with even the faintest sporty aspirations needs to offer a manual transmission. Oddly enough, Kia will sell you a manual Forte GT if you live in the U.S. Canadian executives must wake up and do something about it if they seriously hope to contend with the two aforementioned rivals.
Honda actually does the opposite: Civic Si buyers can only get one with a manual gearbox. Now that's refreshing by 2019 standards.
Understated Looks
Believe it or not, the car you see here is not the base Forte. The Jetta GLI has often been criticized for its lack of visual character, but it's downright flamboyant next to the new Forte GT. Except for a few "GT" badges on the grille, trunk lid and steering wheel, it's almost impossible to tell this model apart. The low-key red stitching inside the cabin is clearly not enough.
On a positive note, the black leather trim is quite nice. If you had doubts about Korean cars, the Forte GT will squash them.
Fuel Economy
One area where the Forte GT has the upper hand on the Jetta GLI is fuel economy. The former boasts ratings of 8.7 L/100 km in the city and 6.6 L/100 km on the way, while the latter achieves 9.3 and 7.2 L/100 km, respectively.
The champ remains the Civic Si at 8.4 and 6.2 L/100 km.
Fairly Comfortable, but not Cheap Enough
In LX trim, the 2020 Kia Forte comes with 15-inch wheels. Move up to the GT and you'll find 18-inch alloys. The good news is that ride quality isn't too affected on reasonably maintained pavement.
On paper, the sporty compact sedan from Kia has a decent price of $28,995. The problem is that you only need to add $95 to get your hands on a four-door Civic Si. Want a Jetta GLI instead? This one starts at $31,695.
Test drive report
Test model

2020 Kia Forte

Trim level
GT
Price range
N/A
Price as tested
N/A
Warranty (basic)
5 years/100,000 km
Warranty (powertrain)
N/A
Fuel economy (city/highway/observed)
9,3 / 7,2 / N/A L/100km
Options
N/A
Competitive models
Honda Civic, Hyundai Elantra, Mazda Mazda3, MINI Clubman, Nissan Sentra, Subaru Impreza, Toyota Corolla, Volkswagen Golf, Volkswagen Jetta
Strong points

Understated looks (if that's what you're looking for)
Great dual-clutch transmission

Weak points

Not sporty enough
Not cheap enough
No manual gearbox in Canada

Editor's rating
Fuel economy
The Forte GT is reasonably efficient, though the Civic Si is even more frugal at the pump.
Comfort
The ride is fairly comfortable, but how much does it really matter for buyers of sporty compact cars?
Performance
Give the naturally aspirated 2.0L engine a chance before spending big bucks on the 1.6L turbo.
Infotainment
Similar to every other Kia model, the system is easy to use and requires no learning curve.
Driving
The Forte GT is somewhat pleasant to drive, but clearly not as sporty as its direct rivals.
Overall
The Forte GT needs to do a lot more to convince people interested in a Civic Si or Jetta GLI.