2021 Toyota RAV4 Plug-in Revealed Ahead of L.A. Auto Show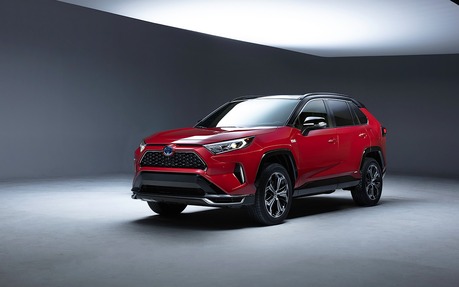 Consumers have been waiting for it for a long time and now Toyota is making it official: the RAV4 Plug-in is coming!
Announced as a 2021 model, the vehicle will celebrate its world premiere on November 20 at the 2019 Los Angeles Auto Show.
Most specifications will be revealed at that time, but we can already tell you that the new Toyota RAV4 Plug-in will be the most powerful RAV4 yet.
Right now, that title is held by the 219-horsepower 2019 RAV4 Hybrid.
What about EV range? It's expected to be rated at around 70 kilometres thanks to a larger battery, making the compact SUV even more fuel-efficient.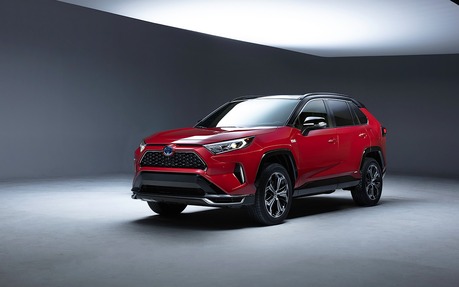 A single image has been released so far and it shows a slightly different grille and chin spoiler, not to mention unique wheels. Vertical fog lights and extra chrome accentuate the corners of the front bumper.
You'll also notice the new Supersonic Red body colour that Toyota is adding to the lineup. Similar to the RAV4 Hybrid, a two-tone exterior with a contrasting roof will be available.
The 2021 Toyota RAV4 Plug-in will directly rival the upcoming Ford Escape Plug-in Hybrid (209 hp, 48 km of EV range) and the existing Mitsubishi Outlander PHEV (approx. 35 km). Remember, the new Honda CR-V Hybrid (non plug-in) is not coming to Canada.
Don't miss our coverage of the Los Angeles Auto Show to get more details and pictures!