Lexus LF-30 Electrified Concept Unveiled in Tokyo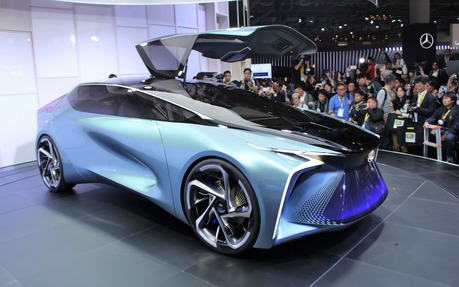 TOKYO, Japan – Like many other manufacturers, the Toyota Motor Company is electrifying its future with expanded development of plug-in hybrid and hydrogen fuel cell technologies, but also fully electric powertrains.
Luxury brand Lexus will also benefit from these new forms of electromobility, and to showcase what's in store for tomorrow's customers, the Lexus LF-30 Electrified concept was revealed at this year's Tokyo Auto Show.
Its name stands for Lexus Future, but also indicates the brand's 30th anniversary on the market, which started with the launch of the 1990 Lexus LS 400. The LF-30 Electrified is a four-passenger car with a fully electric powertrain, an autonomous driving system and gullwing doors.
With an electric motor placed at each wheel, the Lexus LF-30 Electrified benefits from all-wheel traction and can vary the power level of each motor to enhance driving dynamics on sinuous roads. The car is also equipped with steer-by-wire technology. The combined output of this concept vehicle is set at 536 horsepower, along with 516 pound-feet of torque, good for 0-100 km/h blasts of 3.8 seconds.
The car features a solid state battery pack—which is more resistant to heat, more compact and more energy-dense. With a capacity of 110 kWh, the LF-30 concept can theoretically cover a distance of 500 kilometres on a single charge, according to the WLTP test protocol. Charging power can climb to as much as 150 kW.
The car's design features a new interpretation of the signature spindle grille, since there's no traditional radiator grille to start with. The front end is characterised with deep, blue-tinted intakes and slim LED lighting strips. At the rear, the L-shaped taillights extend almost all the way up to the roof, while blue LED lighting is found on the bumper in addition to inside the wheels.
The driver gets a more encapsulated cockpit with a head-up display flanked by two touchscreens as well as a jet fighter-style steering wheel. At the swipe of a finger on one of the screens, autonomous driving is activated and the steering wheels moves forward to provide more room to relax. The front-seat passenger also gets a large touchscreen for setting the car's infotainment and climate systems, while rear-seat occupants enjoy features accessible through augmented reality that's displayed on the glass roof panel.
While the Lexus LF-30 Electrified is way too funky to become a mass-production vehicle, many of its styling cues and technologies will find its way in the brand's passenger vehicles within the next ten years. However, next month, Lexus will unveil a fully electric vehicle—likely a small model—that will hit the market in 2020. It should be based on an existing model like the Lexus UX or one that will soon be redesigned like the Lexus IS, but the chances we'll be getting it in Canada are pretty slim.
As we reported earlier when we talked about Lexus' 30th anniversary, every model in the lineup will be available with an electrified powertrain by 2025, including a first plug-in hybrid model and a dedicated fully electric vehicle. A semi-autonomous driving system will also make its appearance.