Alpina B3 Delights
3 Series

Fans Ahead of the Next M3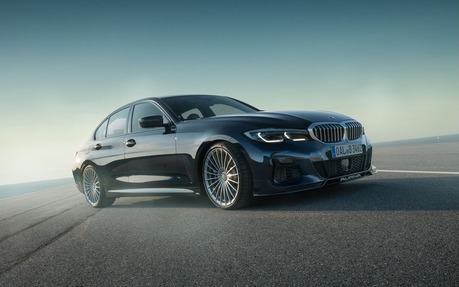 As we wrap up our coverage of the 2019 Tokyo Auto Show, we thought you'd be interested in the new Alpina B3 sedan introduced by the BMW tuning specialist.
Based on the popular 3 Series, this car visually and dynamically cranks things up to a level only the next M3 can surpass—though spy shots of the latter suggest the ugly, massive front grille first seen on the Concept 4 will make it to production.
In typical Alpina fashion, the B3 sports a more aggressive front fascia than the standard 3 Series, with optimized air intakes and a unique lip spoiler. The body is finished in a dark blue metallic paint, but a sleek green colour is also available (as seen on a B3 Touring model presented in Frankfurt last month).
You probably know that Alpina has its own in-house leather workshop, so the B3's interior is a superb example of craftsmanship, starting with the hand-stitched Lavalina leather Alpina heated sport steering wheel. Other highlights include Alpina doorsills, metal emblems on the floor mats and seatbacks, plus a serialized plaque on the centre console.
Now, here's where it gets very, very interesting. The Alpina B3 sedan uses a version of BMW's latest inline-six engine that produces 462 horsepower and 516 pound-feet of torque. It accelerates from 0-100 km/h in just 3.8 seconds—half a second quicker than the current 382-horsepower M340i and three tenths quicker than the outgoing 425-horsepower M3—while reaching a top speed of 302 km/h.
We hear the all-wheel-drive platform used in the B3 is derived from BMW's xDrive system. And similar to the base 3 Series, only an eight-speed automatic transmission is offered. As for the suspension, the B3 gets sport springs and stiffer anti-roll bars along with variable damper control.
By the way, the future M3 will use the same twin-turbocharged 3.0-litre inline-six engine that propels the X3 M and X4 M crossovers, whose Competition variants generate up to 503 horsepower.
In the meantime, don't get your hopes up for the Alpina B3 to come to North America.