Original and Unrestored Lamborghini Miura Sold for a Fortune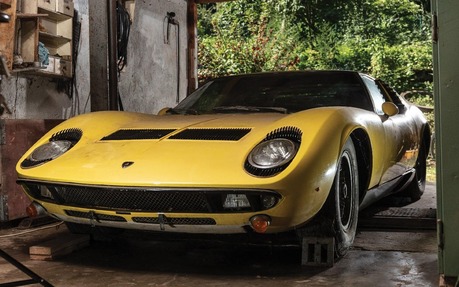 A rare 1969 Lamborghini Miura P400 S, believed to be one of the last remaining examples still in original and completely unrestored condition, was recently sold for $2.09 million at RM Sotheby's auction in London.
As one of only 338 Miura S models ever built, it was initially estimated to be worth between $1.3 million and $1.7 million.
This precious copy of the mid-engine Italian supercar has had only two owners and the last one was an amateur racing driver who bought it back in 1974. When he died in 2005, it was stored in a German barn and sat there for 14 years.
The dust-covered Giallo Flay yellow paint on the iconic body shape contrasts with the Skay Bleu blue interior, while the 3.9-litre V12 engine has a mere 10,032 miles (approx. 16,000 km) on the clock.
As mentioned earlier, no modification or restoration has ever been made to this Miura.
"The Lamborghini Miura sold well thanks to its exclusivity and rarity, and we are proud to have played host to the sale of the car as it changes hands for the first time in over 40 years," said Will Smith, Auction Manager at RM Sotheby's London.