2020 Mercedes-Benz GLB: CuteWagen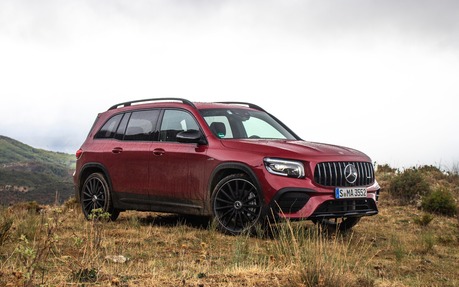 With the addition of the all-new 2020 Mercedes-Benz GLB, there are now eight SUVs in the German automaker's lineup. People in Stuttgart are ecstatic since rival BMW "only" has seven.
However, the latter offers three sub-compact models including the BMW X1 and X2 as well as the MINI Countryman. For Mercedes, that was a problem. The GLB is the solution.
This cute little box that the company is defining as a sport utility vehicle was not designed merely to steal customers away from the competition. It also puts the brand in a better position within the highly lucrative small-SUV segment while filling the supposed void between the GLA and GLC.
Our test drive in Spain left us enamoured with the GLB.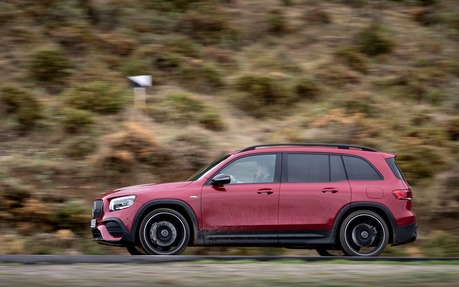 Boxy is Cool Again
One of the most distinctive attributes of the 2020 Mercedes-Benz GLB is the cute, adventurous-looking exterior with angular lines and a boxy shape reminiscent of the first-generation GLK and, of course, the iconic G-Class. Actually, the body looks a lot like the G-Class emoji.
Under that sheetmetal is the MFA2 sub-compact platform shared with the A-Class and CLA-Class cars, though it was stretched 130 millimetres to give the GLB much more passenger and cargo room. In fact, there's available third-row seating, something you will only find in slightly larger competitors like the Volkswagen Tiguan and Land Rover Discovery Sport. As you can imagine, the rearmost seats in the GLB are not suitable for average-sized North American adults.
In standard five-passenger configuration, this new Mercedes SUV proves a lot more accommodating than the A-Class. Rear-seat legroom and headroom is more generous, while the trunk can pack way more stuff. Total cargo capacity in the GLB amounts to 1,805 litres with the rear seats folded (1,699 litres in the seven-passenger model) versus 1,217 litres in the A-Class Hatchback.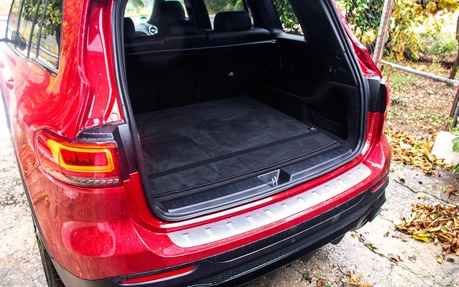 Sharp Powertrains
In Canada, the lineup will include the base GLB 250 and the sporty AMG GLB 35. Both rely on a turbocharged 2.0-litre four-cylinder engine mated to an eight-speed dual-clutch transmission and 4MATIC all-wheel drive system.
Mercedes-Benz told us a fully electric variant called EQB will arrive in 2021, but failed to provide any details about it.
We tested both gasoline-powered models starting with the GLB 250, which will be the bigger seller. Producing 221 horsepower and 258 pound-feet of torque, it has no trouble pushing ahead. Low-end torque is plentiful and a fantastic match with the aforementioned gearbox. On the other hand, this mill is rather noisy both at idle (it sounded like a diesel) and under acceleration.
A way to fix that is selecting Comfort mode, which calms things down a bit while still allowing you to enjoy the generous torque. But if you engage Sport mode, engine revs will spike and remain at a high level most of the time. The GLB becomes louder yet not really quicker.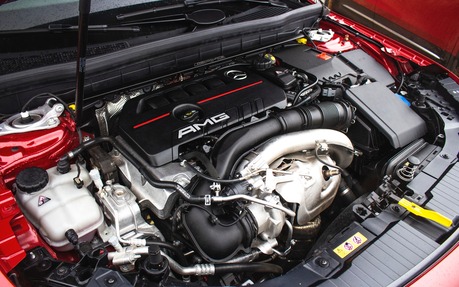 Sure, the suspension and steering get firmer, but we don't see how it's relevant. You can also select Individual mode and adjust everything as you please. The fact of the matter is that the GLB 250, even in Comfort mode, is pretty quick and dynamic.
If you're looking for a more thrilling experience behind the wheel, the Mercedes-AMG GLB 35 is the way to go. With 302 horsepower and 295 pound-feet of torque, this performance model feels livelier and more explosive, not to mention that it looks better with massive 21-inch wheels, a lowered suspension and beefy brake callipers. Truth be told, it's more of a hot hatch than a typical SUV.
Other upgrades include a reinforced chassis that sharpens the ride. For example, there's a shear panel under the engine for increased structural rigidity. Diagonal braces are also added to limit torsion.
Does it work? Heck yes! The GLB 35 proved agile, playful and surprisingly fast on the narrow roads we encountered during our trip to Spain. It even let out a few backfires for our amusement. We were hooked.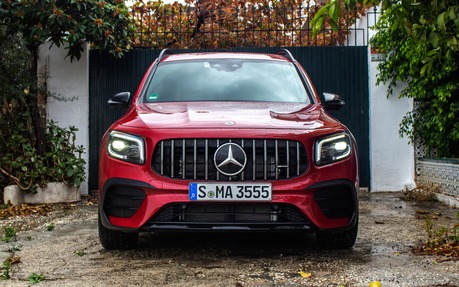 As is the case with the GLB 250, torque comes alive at ultra-low revs. The difference here is that the engine loves to spin and it produces sweet sound effects. Meanwhile, the vehicle sinks its claws in even the tightest corners and the brakes have tremendous bite.
In terms of sportiness, the GLB 35 is almost on par with pocket rockets like the Volkswagen Golf R. Ironically, it reminded us of the MINI Countryman John Cooper Works, though the cabin is much more refined, luxurious and roomy in the back.
While the interior layout is a carbon copy of other Mercedes-Benz products with a large LCD display and metallic air outlets, the GLB manages to stand out thanks to a number of unique design elements and colour combinations.
The more we spend time with the MBUX infotainment system, the more we're impressed. The available navigation system with augmented reality is super-cool and it came in handy on the streets of Malaga. Voice commands didn't really pose a problem… except those few times when we inadvertently pronounced the word "Mercedes."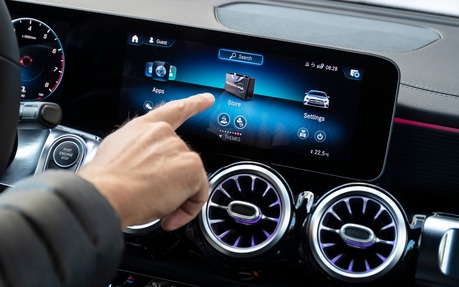 The company's driver assistance features are far too intrusive, however. The most annoying thing was having to set everything back the way we liked it each time we started the vehicle. That's absurd.
This irritant aside, the 2020 Mercedes-Benz GLB will most definitely attract lots of people when it goes on sale in January, even though pricing has yet to be announced. This is exactly the kind of product today's consumers are demanding. Now, what will happen with the GLA? A brand new model is coming, too, but we fear it won't sell nearly as well as its big brother.
Test drive report
Test model

2020 Mercedes-Benz GLB

Trim level
250
Price range
N/A
Price as tested
N/A
Warranty (basic)
N/A
Warranty (powertrain)
N/A
Fuel economy (city/highway/observed)
N/A
Options
N/A
Competitive models
Audi Q3, BMW X1, BMW X2, Jaguar E-PACE, Volvo XC40
Strong points

Lovely design
Roomy and versatile
Impressive performance (GLB 35)

Weak points

Tight third-row seats
Noisy engine (GLB 250)
Intrusive driver assistance features

Editor's rating
Fuel economy
Both engines are highly efficient. Fuel consumption never exceeded 9 L/100 km during our test drive.
Comfort
While small, the GLB is a true Mercedes. Except for the tight third-row seats, the cabin is generally spacious and comfortable.
Performance
The AMG variant turns this little SUV into a sporty, corner-craving compact car. Even the base GLB's performance is surprising.
Infotainment
Le système The MBUX system is modern, sharp and full of pleasant features, but it can quickly become distracting. Voice recognition could be improved, too.
Driving
Whether in GLB 250 or GLB 35 trim, this new SUV proves fun to drive, especially on twisty roads.
Overall
While more of a wagon than an SUV, the GLB shows how much Mercedes-Benz listens to customers and knows exactly how to win them over.