2023 Mercedes-Benz EQB SUV: Entry-Level Luxury Do-It-All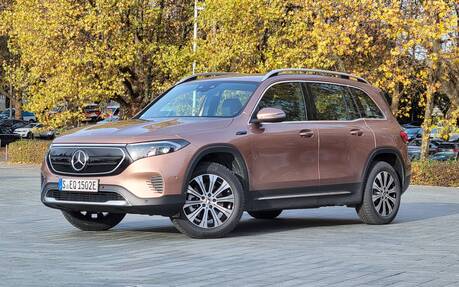 Mercedes-Benz is about to run of letters from the Roman alphabet to name its numerous models. But if you haven't figured it by now, everything with EQ from the Stuttgart automaker is electrified. Hence, the EQB SUV is the GLB SUV's electric counterpart.
It is based on the exact same platform – but has been adapted to include electric motors and a lithium iron phosphate battery (LFP). Hence, it sports pretty much the same dimensions. But what's particular about the EQB is that, unlike its EQE and EQS siblings, it is physically very similar to the ICE product it emulates. The front grille (or lack of) is the biggest difference one will notice on this EQB. Maybe engineers are not as concerned about drag coefficient on this one, but the compromise surely boosts the EQB's exterior appeal.
The Car Guide headed to Stuttgart, Germany to drive this new EQB SUV, a kind of jack of all trades compact luxury SUV that wants to be sport, roomy (with an optional third row), classy and affordable at the same time.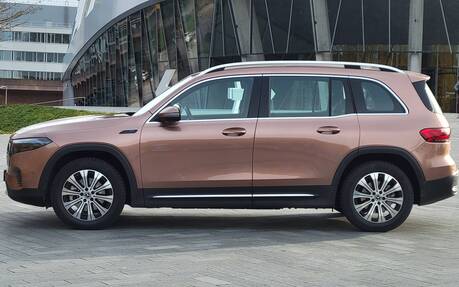 Good Electric Powertrain Performance, Average Range
The variant that is hitting the Canadian market as we speak is the 350 4MATIC. It will be followed by a FWD-only 250 4MATIC. The 350 4MATIC uses a 70.5 kWh battery pack hooked up to two electric motors (front and rear). Total output is 288 horsepower and 385 lb-ft of torque. Drivers will have to rely on an EPA-rated 365 kilometres of range before having to recharge, which is sufficient but could be considered on the low side of the spectrum.
But what's the most surprising is the max charging capacity of only 100 kW. For comparison, a Tesla Model 3 will reach 250 kW on a 350 kW charger, while a Hyundai EV6 and an IONIQ 5 will both do 225 kW. Nevertheless, Mercedes-Benz says the EQB can charge from 10 to 80% in 32 minutes.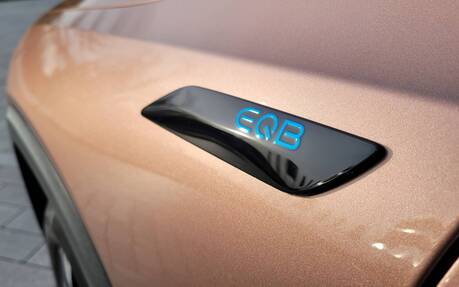 In terms of driving, we can honestly say that Mercedes-Benz has started to figure out how to transpose the Benz driving experience in its EQ line. Not only because of power delivery (every EV can do that) but how the feedback in dialled into the pedal to provide that sporty ICE feel we sometime miss in mainstream electric vehicles. The feedback in the steering wheel also on point, a steering wheel that is small, delightfully thick and well equipped with commands.
In addition to this, while weight is generally the biggest enemy of driving dynamics in the EV business, the EQB 350 4MATIC doesn't "feel" heavy when being tossed around on the road, thanks to good suspension and chassis calibrations.
The only hair in the soup is the regen system. During our drive in 'Auto' mode, the system would sometime lightly interfere with braking, giving a hiccup sensation. This only happened when the EQB 350 4MATIC was spiritedly driven on curvy roads where braking and acceleration are solicited.
LISTEN: LP drives the 2023 Mercedes-Benz EQB 350 4MATIC 
Practical and Versatile Interior
Although the EQB doesn't have dashboard-wide screens like the ones you'll find in the EQE SUV and EQS SUV, you'll still be treated to a pair of 10.25-inch screens equipped with the Mercedes-Benz User Experience (MBUX) interface.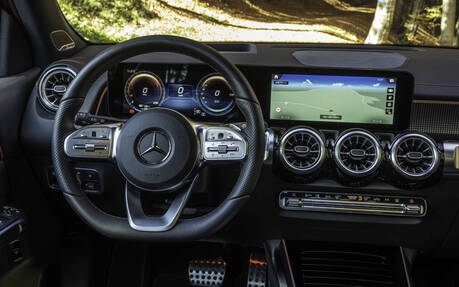 The system can be quite handy and overall useful. But the navigation system is a bit finicky, it seems to propose confusing ways of recalculating itineraries when you take a wrong turn. It'll take you much further away from your original path than it has to.
Comfort is generally on point. And although the third row may be very tight and crushes the cargo space to almost nothing, it remains a good asset for this compact luxury SUV for families looking to crank up their passenger capacity to seven when needed.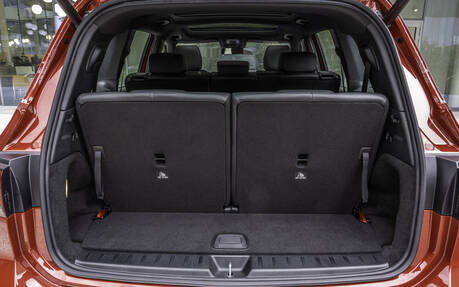 The 2023 EQB SUV plays the versatility card. And aside from the slightly limited range and charging capabilities, along with a few superficial hiccups, the EQB is definitely worth the look for families looking for style in a useful package. It is currently available in dealerships with a starting price of $75,700.
Test drive report
Test model

2023 Mercedes-Benz EQB

Trim level
350 4MATIC
Price range
$75,700
Price as tested
75 700 $
Warranty (basic)
N/A
Warranty (powertrain)
N/A
Fuel economy (city/highway/observed)
N/A
Options
N/A
Competitive models
Audi Q4 e-tron, BMW i4, Fisker Ocean, Ford Mustang Mach-E, Genesis GV60, Hyundai IONIQ 5, Liteborne Aurium SEV, Kia EV6, Lexus RZ, Nissan Ariya, Polestar 2, Subaru Solterra, Tesla Model 3, Tesla Model Y, Toyota bZ4X, VinFast VF 8, Volkswagen ID.4, Volvo C40 Recharge, Volvo XC40
Strong points

Good performance
Impressive driving dynamics for the segment
Optional third row

Weak points

Average range and charging capacity
Finicky navigation system

Editor's rating
Fuel economy
N/A Not evaluated
Comfort
The EQB offers ample room and comfort for passengers. Except for those in the third row.
Performance
Ample performance and bottom-end torque.
Infotainment
Screen is clear and responsive. But navigation system needs work.
Driving
The EQB is nimble, comfortable and doesn't feel heavy. We felt some hiccups caused by the regen system, but it still surpassed our expectations in terms of driving dynamics.
Overall
Minus a few details that could be sorted out, the EQB proves to be a good proposition, even better than the GLB.