The Car Guide Podcast: 2023 Mercedes-Benz EQB 350 4MATIC and 2023 Land Rover
Range Rover

Test Drives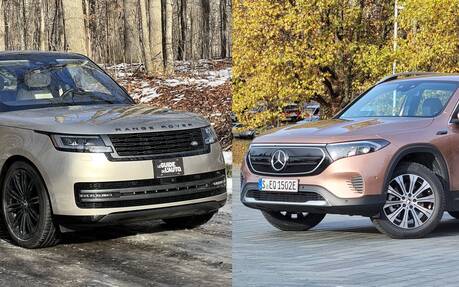 Louis-Philippe Dubé and Gabriel Gélinas share their driving impressions on the 2023 Mercedes-Benz EQB 350 4MATIC and 2023 Land Rover Range Rover on the latest episode of The Car Guide Podcast.
The Mercedes-Benz EQB is the electric version of the GLB. As a matter of fact, it is built on the very same platform which has been adapted to accommodate a battery and a pair of electric motors. It uses a 70.5 kWh battery pack, outputs 288 horsepower and 385 lb-ft of torque and promises to deliver an EPA-rated 365 kilometres of range.
During a recent trip to Germany, LP took this compact luxury electric Benz through the streets and outskirts of Stuttgart. LP underlines the fact that the range figure could be considered low in the current market, where manufacturers tend to aim for 400+ kilometres. The charging speed of only 100 kW is also brought to the table, a particularly low figure when considering some mainstream manufacturers offer up to 225 to 275 kW in terms of capacity.
On the other hand, LP points out the EQB's particularly versatile character, with plenty of space for passengers and an optional third row for larger families. According to LP, the EQB delivers satisfying driving dynamics and, despite having a finicky navigation system, the overall experience in terms of tech is above average for the segment.
Launched 50 years ago, the Range Rover was the first luxury SUV. Gab drove the redesigned First Edition 2023 Range Rover. He finds it superbly designed inside and out, but above all, incredibly quiet. It is powered by a twin-turbocharged 4.4-litre V8 engine built by BMW with an output of 523 horsepower and 553 pound-feet of torque. Gab underlines that the Range Rover is quite heavy, but it features a 48V active roll bar system that compensates for body roll, enhancing comfort and handling. 
On the under hand, the Range Rover gave Gab a hard time with its finicky start/stop system. And as we know, Land Rover vehicles score very low in terms of reliability.
Listen to LP and Gab's full impressions on The Car Guide Podcast EP6
Listen to the full episode here: