All-electric BMW iX3 to be More About Range Than Power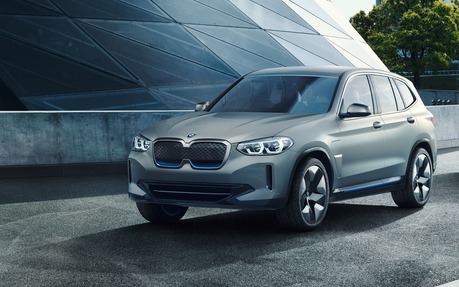 We now have more details about the upcoming BMW iX3, the electric variant of the popular X3 crossover.
Based on the iX3 Concept shown at Auto China in 2018, the production model will roll off the assembly line in 2020 with the fifth generation of BMW's eDrive electric propulsion technology, which will later be used by the i4 and iNEXT. The electric motor, transmission and electronic management systems are regrouped into a single, separate component.
Thanks to a 74-kWh battery mounted under the floor, the iX3 will provide a range of 440 kilometres per the WLTP standard used in Europe and other markets. Expect that number to drop slightly below 400 kilometres when the EPA rates the vehicle in North America. BMW claims the vehicle needs just under 20 kWh of energy per 100 kilometres.
The motor generates 210 kilowatts, or 286 horsepower, and 295 pound-feet of torque, which pales in comparison to the iX3's main rival, the Mercedes-Benz EQC (402 horsepower, 564 pound-feet). The latter offers similar range.
At the moment, BMW is talking about a rear-wheel-drive configuration only as it aims to preserve the sporty driving characteristics BMW vehicles are known for. However, it's probably safe to assume a dual-motor, all-wheel-drive variant will be added later.
Interestingly, in a move to limit its actual environmental footprint, the BMW iX3 won't use any rare earth materials, all of the drive components will be developed and manufactured in-house instead of coming from suppliers and the battery is designed to be used as a stationary battery pack once the vehicle reaches the end of its life cycle.
We expect the production iX3 to be revealed sooner rather than later and we will share more information with you at that time. It's too early to speculate about pricing.