Sony Stuns CES Crowd with Vision-S Car Concept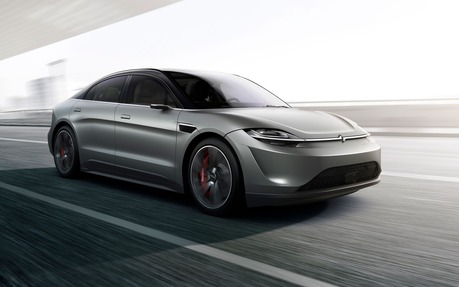 One of the biggest surprises at the 2020 CES in Las Vegas this week is unquestionably the new electric car concept unveiled by Sony. Called Vision-S, it demonstrates the tech giant's know-how and creativity when it comes to designing mobility solutions for the near future.
Let's make one thing clear: Sony is not about to become a car manufacturer. However, like many others, it wants to redefine the automobile and the way we interact with it. Three key words underline the brand's approach: safety, entertainment and adaptability.
A total of 33 sensors, radars and cameras are spread throughout the vehicle, both inside and outside, to scan the road all around and allow autonomous driving (starting with level 2 all the way up to level 4 in a few years' time) while simultaneously taking care of occupants' wellbeing.
The three large infotainment displays (reminiscent of the full-width screen found in the new Byton electric SUV) and the digital mirrors on each side adjust their resolution and brightness to ensure optimum visibility at all times.
The facial expression and body movement of drivers are used to gauge their concentration and fatigue levels, the cabin temperature is adjusted according to the condition and feelings of passengers and an immersive experience is created by the intuitive displays and 360 Reality Audio system (featuring speakers built into each seat).
Sony is also promising exceptional connectivity between the car and users' smart devices through the 5G network. Similar to Tesla, a single tap will allow drivers to summon their parked car to their present location. Artificial intelligence—both within the vehicle and via the cloud—will interact and learn as part of the sensing system, so the longer a person continues to use the car, the more it will evolve.
As for the technical aspect, the Sony Vision-S concept is a four-door midsize sedan with a newly developed EV platform that uses ultra-thin batteries and a pair of 200-kW (268-hp) motors in an AWD setup. It sprints from 0-100 km/h in 4.8 seconds. The fully independent, double-wishbone suspension with air springs is anchored down by 21-inch wheels.
We applaud Sony's effort and are anxious to see where it goes from here. Meanwhile, where's the Apple car?