2020 Montreal Auto Show: An Exciting New Decade Begins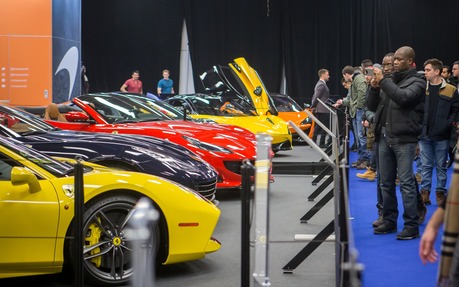 The 2020 Montreal International Auto Show takes place at Palais des congrès from January 17-26. Once again, tens of thousands of visitors will get the opportunity to see and discover the latest and greatest from the automotive industry.
What's so special about the 77th edition?
Well, for starters, there are three North American premieres (from Hyundai, Mitsubishi and MINI), 37 Canadian premieres and a dozen special presentations. Overall, nearly 500 cars and trucks are assembled across the various floors, giving future buyers a head start for their next vehicle purchase.
This year, the Electric Zone is bigger and occupies a full floor on Level 7. Visitors will discover more than 20 products and services exhibitors, daily conferences and some 20 electric car models. As usual, people can register for a free test drive courtesy of CAA-Quebec.
Following its success last year, the Black Box returns in 2020 with two of the most exotic sports cars on the planet: the McLaren Senna and Pagani Huayra Roadster. We're talking about street-legal, track-oriented supercars generating more than 750 horsepower each. Their combined value amounts to $6 million.
Classic car lovers won't want to miss the exhibition of eight mythical rides presented in collaboration with Vintage Automobiles of Quebec (VAQ). The list includes a 1912 Ford Model T, 1929 Ford Model A Phaeton, 1933 Buick McLaughlin Convertible, 1948 Chrysler Windsor, 1954 Cadillac Model 62 Convertible, 1966 Pontiac Parisienne, 1973 Plymouth Cuda and 1987 Chevrolet Monte Carlo SS.
Finally, "Expose ton Char" is a new special feature highlighting 10 amazing cars that were modified and customized by young Quebecers. Visitors can vote for their favourite and the winner will receive a $1,000 prize.
Schedule
January 17-25: 10 a.m. – 9 p.m.
January 26: 10 a.m. – 6 p.m.
Admission Fees
General admission: $17
Students and seniors (age 65 and older): $14
Children (ages 6-12): $7
Children (under 6): Free
Family pass (2 general admissions and 2 children): $41