Toyota, Panasonic Team up to Make Batteries for Auto Industry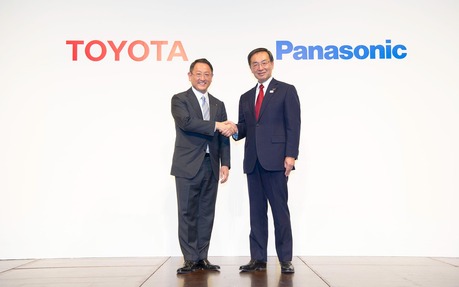 Increased electric vehicle production is highly dependent on sufficient battery supplies, which is why Toyota and Panasonic agreed on Monday to set up a joint venture to develop prismatic (square-shaped) batteries that will be available to any automaker.
The new company, called Prime Planet Energy and Solutions, will begin operations on April 1 with more than 5,000 employees. Under the terms of the agreement, Toyota will own 51 percent and Panasonic 49 percent.
It is an expansion of the collaboration between the two companies dating back to the mid-1990s.
"Batteries—as solutions for providing energy for automobiles and various other forms of mobility, and as solutions for various kinds of environmental issues—are expected to fulfil a central role in society going forward," Toyota and Panasonic said during their press conference.
Toyota aims to get half of its sales from electrified vehicles (full EVs and plug-in hybrids) by 2025. The Japanese automaker is both developing its own batteries and tapping new suppliers to avoid a shortfall.
Panasonic has been the exclusive supplier of cylindrical batteries for Tesla, but has been looking to expand its list of customers by stepping up development of the prismatic batteries more widely used in the industry. Tesla, meanwhile, announced last month it would also source batteries from South Korea's LG Chem and China's CATL in a move to support future vehicle production, especially at its new Gigafactory in Shanghai.