The Car Guide's 2020 Best Buys: Mazda3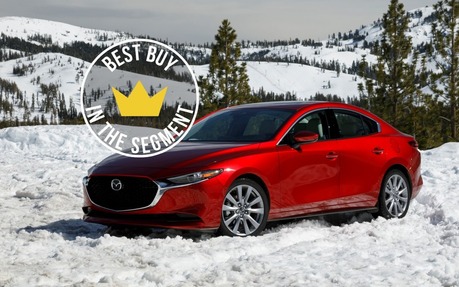 Every year, The Car Guide publishes its Best Buys in nearly 30 different vehicle categories. Today we continue our review of the 2020 winners with a look at compact cars, a market segment still populated by many of the best-selling vehicles in Canada.
The Mazda3 (MSRP from $18,000) is in our opinion the best compact car you can buy in 2020. In fact, we even gave it our highest distinction—Best New Car of the Year.
Completely redesigned last year, the Mazda3 manages to attract both affordable compact-car consumers and buyers interested in small luxury cars. Highlights include an inspired design, an upscale cabin, sporty driving dynamics and some nicely calibrated powertrains. Of course, it also has an all-wheel drive option now, allowing drivers to conquer the winter season. The Mazda3 continues to be offered in four-door sedan and five-door hatchback body styles.
Second place in the compact segment goes to the Toyota Corolla (MSRP from $18,990), which enters its twelfth generation sporting a much more contemporary and attractive look, especially in Nightshade Edition with black accents for extra character. The biggest news is the introduction of the Corolla Hybrid, which burns just 4.5 L/100 km on average.
Finally, there is a tie in third place between the Kia Forte (MSRP from $17,695) and Hyundai Elantra (MSRP from $17,149), two Korean cars that stand out by offering tremendous value, generous interior space and a comfortable ride. For 2020, the former refreshes the five-door variant while the latter gets a new continuously variable transmission for increased efficiency.
The Car Guide's 2020 Scores
Mazda3 – 85%
Toyota Corolla – 83%
Kia Forte / Hyundai Elantra – 81%