2020 Toyota Highlander Hybrid: Stellar Fuel Economy Trumps Performance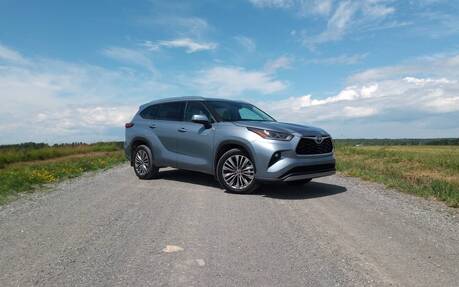 While compiling a list of 10 surprisingly fuel-efficient vehicles recently, we included the 2020 Toyota Highlander Hybrid. Thanks to a brand new global architecture called TNGA and a more advanced hybrid system, this model is 19-percent more frugal than the old one with an official combined rating of 6.7 L/100 km.
That's incredible for a three-row midsize SUV that can tow up to 3,500 pounds—and better than most compact cars, actually.
Following our first drive in Texas last winter, we've just spent a full week with the Highlander Hybrid on Canadian roads. Did it live up to its promise?
Comfortable and Efficient Overall
Instead of the standard 295-horsepower V6 and eight-speed automatic transmission, the 2020 Toyota Highlander Hybrid uses an Atkinson-cycle, 2.5-litre four-cylinder engine mated to a pair of electric motors generating 243 net horsepower. It's all controlled by a continuously variable transmission and distributed to the four wheels.
The hybrid system's batteries are more efficient, keeping their size small enough to fit under the rear seats so they take up no additional cargo or passenger space. 
Overall, the Highlander Hybrid impressed us with superb ride quality despite the large 20-inch wheels fitted to our top-line Platinum tester. Transitions between the various power sources are fairly seamless (you can monitor everything via the 12.3-inch centre screen—the largest in the segment) and braking performance is strong without the regenerative system being too intrusive.
On the other hand, the four-banger becomes noisy when you push it hard and prefers to avoid extended workloads, like when going uphill. The CVT is partly to blame, of course. Whereas the RAV4 Hybrid is more potent than the regular RAV4, it's the opposite here—the priority is fuel economy. If you have to tow a camping trailer, the V6-powered Highlander (5,000 pounds of max towing capacity) is clearly the better choice.
How Much Will You Save?
The 2020 Toyota Highlander Hybrid's average of 6.7 L/100 km comes from a rating of 6.6 L/100 km in the city and 6.8 L/100 km on the highway. We spent most of the early part of the week around town and essentially matched the first number above—without even using Eco mode.
During the weekend, a 450-km long highway trip with six people on board and a trunk full of gear significantly affected fuel economy, but it wasn't as bad as we feared. At the end of the entire week, our net average was 7.5 L/100 km.
The hybrid models have a $2,000 higher MSRP than comparable V6-powered models, which achieve 10.3 L/100 km on average with all-wheel drive in the mix. Based on a litre of gas at $1.10, you'll save $3.96/100 km using the scenario of Natural Resources Canada or $3.08/100 km using ours. That means you must get to 58k-74k kilometres to make the hybrid option profitable—more if you plan on towing occasionally, less if we assume that gas prices will go back up soon.
Classy New Digs
Aesthetically, the 2020 Toyota Highlander and its hybrid variant definitely look classier than their predecessors. We particularly like the new grille, the more refined headlights and taillights, plus the pronounced character line on the sides that seems to add more muscle to the rear. Of course, styling is always a matter of personal taste. Those who prefer a boxier, more rugged-looking SUV should check out the Ford Explorer, Chevrolet Traverse, Kia Telluride or Hyundai Palisade.
The cabin of the new Highlander, meanwhile, is a wonderful place to relax and enjoy the road. In fact, it ranks among the 10 best interiors of 2020 according to WardsAuto magazine. Functionality has improved ever so slightly from the previous generation, but the higher level of refinement and style is the big draw, especially in top-line trim with a superb combination of materials, colours and textures. Designers also managed to incorporate a massive centre display without sacrificing the convenient storage solutions in the dashboard. Bravo.
Complaints? Well, Toyota's infotainment system may be full of features, but it lacks user-friendliness somewhat (it's compatible with both Apple CarPlay and Android Auto, fortunately). The glass-like appearance of the screen can make the information on it hard to read in broad daylight, while the microphone system allowing drivers to "easily" communicate with third-row passengers suffers from unpleasant speaker feedback noise.
The first two rows of seats are quite spacious, but that comes at the expense of third-row space (the amount of legroom back there is only suitable for children) and trunk capacity (limited to 454 litres). Rearward visibility is a bit problematic, as well. Luckily, a digital mirror (connected to a liftgate-mounted camera) is available.
As for safety, don't worry, the 2020 Highlander will put everyone at ease with the Toyota Safety Sense 2.0 suite of advanced safety and driver assist features, along with Safety Connect, Service Connect, Remote Connect and Destination Assist.
Verdict
The 2020 Toyota Highlander Hybrid is a smart choice if you travel a lot, tow lighter loads and absolutely need three rows of seats. It's even smarter in the long run due to Toyota's high reliability and residual value.  
Otherwise, you might be more satisfied with the smooth performance and extra power of the standard Highlander—or any other V6-powered competitor, for that matter. Additionally, most rivals offer more interior space, including the Ford Explorer that we picked as our Best Buy for 2020 among midsize SUVs. This one also has a hybrid option, which is rated at 318 horsepower, 9.6 L/100 km combined and 5,000 pounds of towing.  
Test drive report
Test model

2020 Toyota Highlander

Trim level
hybride Limited (TI)
Price range
$39,990 – $53,690
Price as tested
53 690 $
Warranty (basic)
3 years/60,000 km
Warranty (powertrain)
5 years/100,000 km
Fuel economy (city/highway/observed)
6,6 / 6,8 / 7,5 L/100km
Options
Platinum Package
Competitive models
2020 Ford Explorer, 2020 Honda Pilot, 2020 Hyundai Palisade, 2020 Kia Telluride, 2020 Chevrolet Traverse, 2020 Subaru Ascent, 2020 Mazda CX-9
Strong points

Exceptional fuel economy
Superb ride quality
Class-leading 12.3-inch centre display
High reliability and residual value

Weak points

Could use more power
Towing capacity is limited to 3,500 lbs.
Lack of rear-seat and trunk space
Toyota's infotainment system needs work

Editor's rating
Fuel economy
Can't complain with an average of 6.7 L/100 km.
Comfort
The seats and suspension make the ride quite enjoyable, although the four-cylinder can become noisy when pushed.
Performance
With 243 horsepower, output is limited. Clearly, fuel economy trumps performance here.
Infotainment
Bravo for the slick 12.3-inch display, but the infotainment system lacks user-friendliness.
Driving
The Highlander is far from the most agile or spirited midsize SUV. It's more about relaxation than sporty driving.
Overall
The new generation is very impressive and the hybrid system even more so.