Some GM Designers Had Way Too Much Fun With the Sierra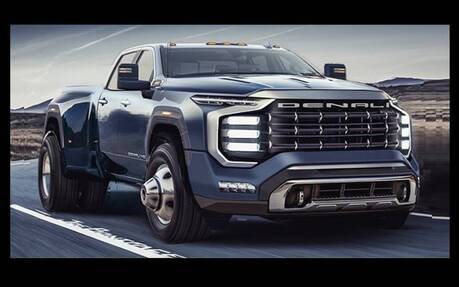 The GMC Sierra was completely redesigned two years ago and the next generation is not expected to debut before the second half of the current decade, but that doesn't mean General Motors designers can't look to the future, experiment with all sorts of things and have a little fun in the process.
Some of them may have gone a bit crazy, though. How else do you explain the latest sketches posted on GM Design's official Instagram account? Are these the big American pickup of the future?
The one pictured above is the work of Joe Boniface, a member of GMC's Strategic Advanced Design team. Starting with a Sierra HD Denali dually, he created a giant workhorse whose outrageous three-bar grille and stacked LED lights mark an equally giant departure from today's trucks.
The oversized fenders and tires further accentuate the look of a mean machine ready to do any job you could imagine. While visibility might pose a problem due to the small windows and windshield, we bet numerous cameras would help the driver manoeuvre the vehicle with confidence.
And then there's this other unlikely GMC pickup penned by Karan Moorjani, who works as an exterior designer on autonomous and electric vehicles. Talk about an off-road beast from the future—or hell. Clearly a new breed of GMC trucks, it kind of reminds us of the Rally Fighter from Local Motors.
The low cab similar to that of a sports coupe suggests that performance is clearly a bigger priority than comfort and utility, here.
GM regularly posts sketches like these as a way for designers to explore new directions and spur reactions from consumers. Obviously, they're not intended for production, but it's good to know that the people in charge of developing future GM products don't lack imagination or skills.
Watch: the GMC Sierra 1500's MultiPro tailgate