These Two Special Corvettes Could be Yours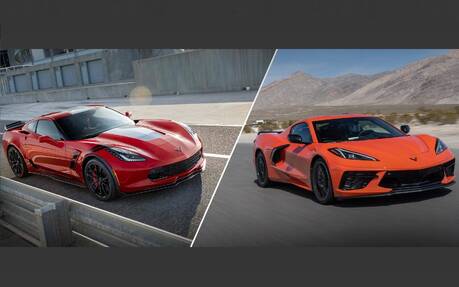 Attention all car collectors and especially fans of the Chevrolet Corvette: General Motors is donating for auction the last seventh-generation Corvette and the first eighth-generation Corvette built for the Canadian market to the Durham Children's Aid Foundation.
More specifically, the money raised by the sale of these two historic cars will support 'Sharon's Kids,' which was founded in 1968 by a former GM Oshawa employee who passed away after a battle with cancer in April of this year.
Online bidding begins on October 21 through the end of the live auction on October 28. You can bid on either one—or both—by visiting www.chevrolet.ca/CorvettesForKids.
The very last C7 model built for Canada is a 2019 Chevrolet Corvette Stingray Grand Sport packed with 460 horsepower and 465 pound-feet of torque. It features an eye-popping Torch Red body.
Meanwhile, the very first C8 unit built for Canada is a 2020 Chevrolet Corvette Stingray—the brand's first-ever production mid-engine Corvette—rated 495 horsepower and 470 pound-feet of torque. This one is painted in Sebring Orange.
It's hard to predict the value of these cars, but similar auctions have taken place in the past.
In the U.S., the last front-engine Corvette—a 2019 Z06 3LZ Coupe—sold for $2.7 million (approx. $3.5 million CAD) at the Barrett-Jackson Northeast Auction over a year ago.
Then, in January 2020, the very first 2020 Chevrolet Corvette—a fully loaded Stingray 3LT model—fetched $3 million USD (approx. $3.9 million CAD) at the Barrett-Jackson Scottsdale auction in Arizona.