This Invention Could Make Sports Cars Much Cheaper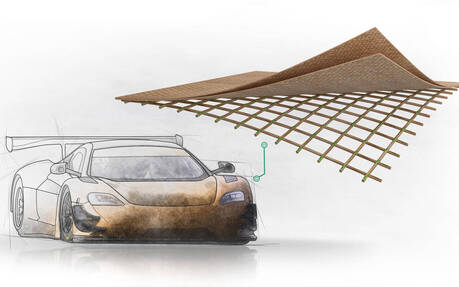 Sports cars—high-performance models in particular—increasingly make use of carbon fibre to reduce weight while achieving exceptional body rigidity. It's a popular material in interior design, too.
However, carbon fibre is quite expensive to produce and purchase, which inevitably raises the price of these cars. Wouldn't it be great if there were a readily available alternative at a significantly lower cost?
That's where Bcomp comes in. Working with flax, which is a well-known plant used in part to make linen, this Swiss company has developed Amplitex, a new composite now being adopted by major automakers.
Basically, it combines flax fibres and epoxy resin to form an ultra-rigid material that can be woven in any shape or thickness depending on the application, just like carbon fibre.
According to Bcomp, Amplitex (including the structural support ribs) is 75 percent cleaner for the environment. One square metre will produce 16.9 kilograms of CO2 versus 45.6 kilograms of CO2 with carbon fibre. The latter, remember, is made at temperatures typically between 1,500-2,500 degrees Celsius and is virtually impossible to recycle into carbon fibre fabric. Flax naturally absorbs CO2.
Another great benefit is that Amplitex is 30 percent cheaper to produce than carbon fibre while offering the same stiffness and weight. Imagine the large savings that manufacturers could make and the lower prices they could sell their sports cars at.
The Porsche 718 Cayman GT4 CS MR race car already boasts a full Amplitex body kit, while McLaren's F1 car seats are made of this material. Polestar also commissioned Bcomp to help design interior panels for the Precept concept, which will enter production next year (likely to become the Polestar 3).
Bcomp expects large-scale production to begin as early as 2021.