2021 Lexus IS: In the Shadow of the Germans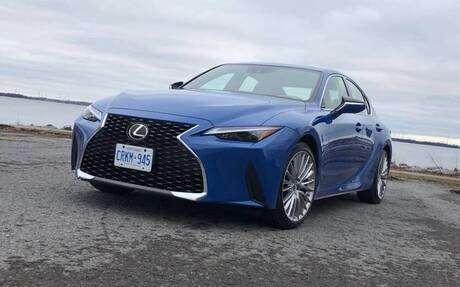 Lexus has no plans to tap out as it fights to stay relevant in the compact luxury car segment. Despite sales of the IS falling 21 percent from 2018 to 2019, the company is back with a redesigned model.
The all-new 2021 Lexus IS has its work cut out for it, though. The German competitors are stronger and more desirable than ever. We recently headed to Kingston, Ontario to see how the next-gen IS stacks up.
The "Fun"damentals
While chatting with the folks at Lexus Canada, it became clear that the Lexus IS now has its sights set on catching the Teutonic trio made up of the Audi A4, BMW 3 Series and Mercedes-Benz C-Class. These are all household names and much better sellers than the IS.
So, what's the plan? Lexus aimed to make its compact sedan more dynamic and more fun to drive, capitalizing on the fact that many customers in this segment go with their heart rather than their head. The brand's stellar reputation for reliability is a rational argument. It needs to find more compelling reasons to attract drivers.
Built on a more rigid chassis than its predecessor, the new 2021 Lexus IS is longer and wider while featuring a lighter and stiffer suspension. The promise is more exciting times behind the wheel even though the available powertrains haven't changed one bit.
That's exactly what we discovered on some beautiful, twisty roads around Kingston, which were lightly covered in snow for the occasion. While the old IS was a good driver, the new model clearly proves more entertaining, showing terrific agility and responsiveness in corners. The 3.5-litre V6 is adequately potent and quick enough to respond when prompted. Furthermore, the capable AWD system enables surefooted performance on snowy pavement.
Looking at the competition, we'd argue the Lexus IS has become a benchmark. Seriously.
That Lovely V6
Our tester was a 2021 Lexus IS 300 AWD model, which happens to be the most popular trim level according to the brand. It produces 260 horsepower through a six-speed automatic transmission—same as before. Why not an eight-speeder like the one mated to the standard turbo-four? Lexus won't say. As a result, combined fuel consumption is a disappointing 10.5 L/100 km. Granted, we did push the car a lot during this media event.
If you want more power, the top-line IS 350 AWD cranks the V6 up to 311 horsepower. All-wheel drive comes standard here, as well, and so does the six-speed autobox.
As for the base IS 300 RWD, very few people opt for this model due to the simple fact it has rear-wheel drive. It makes us wonder why Lexus keeps offering it in Canada. Rivals such as the Audi A4 and Infiniti Q50 feature all-wheel drive as standard. The good news for IS customers is that the cost of moving up to the V6 is pretty reasonable.
By the way, still no gas-electric variant? Lexus has made a name for itself in part with excellent hybrid technology, which is now available on numerous models. That would have been a great way to stand out from the competition. Also, there's no longer a high-performance option to play with the big boys (Audi S4, BMW M3, etc.). Will we see the return of the IS F at some point? Stay tuned.
A Feeling of Deja Vu
While the 2021 Lexus IS managed to impress us on the road, everything else left us wanting more. For starters, styling has barely evolved. Sure, the grille is slightly different (and comically larger than ever) and the taillamps are now connected by a continuous strip of light. The available F SPORT package adds 19-inch wheels, which is a first for the IS. Overall, though, the timid makeover is not what we expect from a brand new generation.
Sadly, it's the same story inside. The dashboard and centre console already look a bit dated, while modern technologies such as head-up display and wireless smartphone charging are nowhere to be found. And yet a CD player is still in there? Come on! Isn't the IS supposed to target young drivers aged 35-45? 
On a positive note, material selection is beyond reproach, the new 17-speaker Mark Levinson surround sound system deserves praise, and the many advanced driver assistance features that are part of the Lexus Safety System+ 2.5 provide increased protection for everyone on board.
A big problem continues to be the laptop-like touchpad that controls the infotainment system. It's both highly frustrating to use and a great source of distraction while driving, though Lexus points out the centre display is now a touchscreen. That's good… in theory. In reality, the screen is largely beyond arm's length, so you need to stretch and once again turn your attention away from the road. The silver lining? Apple CarPlay and Android Auto compatibility is included at last.
How Much?
The 2021 Lexus IS 300 starts at $42,950 for the four-cylinder RWD model. To get the V6-AWD combo, you need to spend just $450 more—and another $2,400 if you want the F SPORT package with those 19-inch wheels. Finally, the top-line IS 350 AWD retails from $53,300.
Lexus can rightfully brag about making the IS more dynamic and more engaging to drive. However, when it comes to design and technology, there aren't enough changes to shake up the sales charts. The Germans don't have to worry.
Test drive report
Test model

2021 Lexus IS

Trim level
IS 300 TI
Price range
$41,645 – $53,745
Price as tested
44 145 $
Warranty (basic)
4 years/80,000 km
Warranty (powertrain)
6 years/110,000 km
Fuel economy (city/highway/observed)
12,3 / 9,1 / 10,5 L/100km
Options
N/A
Competitive models
2021 Audi A4, 2021 BMW 3 Series, 2021 Acura TLX, 2021 Cadillac CT5, 2021 Infiniti Q50, 2021 Mercedes-Benz C-Class, 2021 Volvo S60
Strong points

Improved driving dynamics
Excellent reputation for reliability
Fit and finish is beyond reproach

Weak points

Infotainment system is not very user-friendly
Lacks a certain number of technologies
No hybrid or high-performance model

Editor's rating
Fuel economy
The V6 engine and six-speed autobox can't work miracles.
Comfort
The front seats are super comfortable, but there's limited legroom in the rear.
Performance
The V6 is adequately powerful. Too bad Lexus doesn't offer a real performance option.
Infotainment
Clearly the biggest weakness.
Driving
Lexus promised a more engaging drive and delivered.
Overall
This is a good car that lacks modern flair and technology inside.