2021 Lexus IS: Five Things to Know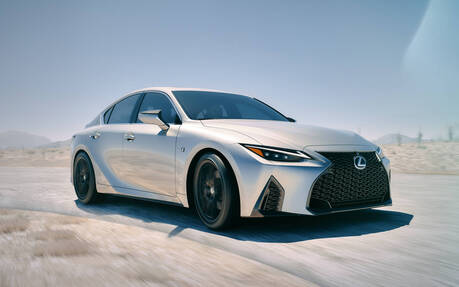 The new, fourth-generation 2021 Lexus IS was unveiled recently and will arrive at dealerships in late fall. While pricing, fuel economy ratings and full equipment details have yet to be announced, it's reasonable to assume the car will attract more potential customers, even though the evolution is quite subtle.
If you're looking for a compact luxury sedan, here are five things you need to know about the 2021 Lexus IS…
Timid Design Update
Despite being 30 mm longer and wider, the 2021 Lexus IS looks awfully similar to the outgoing model. In fact, this feels more like a simple refresh and a thorough redesign. The grille is larger, the front lighting units are now integrated into a single, sleeker-looking assembly, the redesigned taillights are connected by a strip of light, and the bumpers feature slightly different sculpting.
For the first time, the Lexus IS will be available with 19-inch wheels (the standard alloys increase from 17 to 18 inches). In addition to those, F SPORT models stand out with exclusive Infrared paint (one of five new body colours introduced for 2021), more prominent air intakes and rocker mouldings, wider rear tires, a new rear spoiler and a unique exhaust.
Even More Conservative Interior
Inside the 2021 Lexus IS, designers proved how much more conservative they can be. Aside from a rearranged centre console, new touchscreen atop the dashboard and round air vents at each corner, it's the same old IS we already know. At least there are striking colour options like Glazed Caramel or Circuit Red to add some flair.
Drivers who hate the company's touchpad on the console can find solace in the fact that the touchscreen up top now sits nearly 80 mm closer for easier access. And naturally, it's compatible with Apple CarPlay and Android Auto.
Same Engines
If you were hoping for more muscle under the hood, we're sorry to tell you that the 2021 Lexus IS returns with the same three powertrains, starting with the IS 300 RWD and its turbocharged 2.0-litre four-cylinder engine that produces 241 horsepower and 258 pound-feet of torque. Oh, that's right: the eight-speed automatic transmission gets adaptive control logic that helps determine the most appropriate gear for each driving situation.
As for the IS 300 AWD and IS 350 AWD, their 3.5-litre V6 still generates 260 hp/236 lb-ft. and 311 hp/280 lb-ft., respectively. The old six-speed autobox sticks around instead of giving way to the eight-speeder. Engineers improved the Active Sound Control system which amplifies the notes of the V6 engine, but that doesn't boost performance one bit.
Enhanced Driving Dynamics
So, what has really changed? Well, the 2021 Lexus IS benefits from a more rigid body structure, which should translate into a smoother, quieter and more stable ride along with better handling. It happens to be the first product to embody the new concept of "Lexus Driving Signature" developed at the equally new Toyota Technical Centre in Shimoyama, Japan.
On F SPORT models, the upgraded suspension includes new forged aluminum A-arms, new stabilizer bars, new coil springs and more. All these components are 17-20 percent lighter, as well. A Dynamic Handling Package adds adaptive damping.
More Safety Tech
The standard Lexus Safety System+ (LSS+) found on the new IS receives additions for 2021 in the form of the new LSS+ 2.5. In particular, the single-lens camera and millimeter-wave radar elements of the Pre-Collision System receive enhancements to expand the response range, detecting even a preceding pedestrian in daytime and low-light conditions.
Also, lane keeping assist has been improved with enhanced recognition of line and road edge, lateral G performance, and enhanced control and stability after lane change.