2022 Pagani Huayra R: Five Things to Know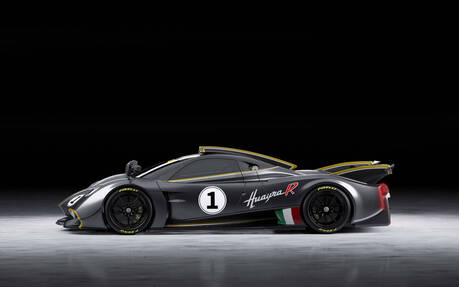 Launched ten years ago in Italy, the Pagani Huayra remains an icon in the hypercar segment to this day. For 2021, Pagani just unveiled the Huayra R, an edition of the car that founder Horacio Pagani describes as "the freest, most extreme and performance-oriented Pagani of all time."
Here are the five things you need to know regarding the 2022 Pagani Huayra R:
An Incredible Powerplant
The new Huayra R is powered by a new 6.0 litre, naturally aspirated V12 engine pushing out 850 horsepower and 553 pound-feet of torque. With a top speed exceeding 300 km/h, this car is no slouch!
This new powerplant is also extremely light. Weighing in at only 198 kg, this engine helps keep the weight of the car as low as possible to improve performance. The engine also serves as a structural element, capable of linking the carbon fibre tub to the six-speed sequential transmission and the subframe.
The new V12 has a peak redline of 9000 rpm. Alongside the new exhaust system, the Huayra R is able to emit an exhaust note similar to one found in a Formula 1 race car.
Performance and Aerodynamics
We simply cannot talk about a vehicle such as the Huayra R without mentioning performance. While we do not yet have official figures from Pagani, we can only assume this hypercar will be able to do a 0-100 km/h run in less than three seconds.
When it comes to aerodynamics, Pagani explains that each line and surface on the vehicle is shaped in a way to ensure maximum aerodynamic load. According to preliminary studies by the manufacturer, this would allow the Huayra R to reach the initial target of 1000 kg of downforce at 320 km/h. The goal was to make a car that would be safe, stable, and predictable at any speed.
Exclusivity
The Huayra was never a car with high production numbers. With this in mind, it's no surprise that the Huayra R will be limited to a tiny number of units, 30 to be exact.
To put these production numbers in context, the original Huayra was limited to 100 units from 2012 all the way to 2018. In other examples, the Porsche 918 Spyder was limited to 918 units, and the Ferrari LaFerrari peaked at 499 units.
With a base price equivalent to $3.8 million Canadian dollars, it's clear that this new Huayra R certainly isn't obtainable for most people.
Safety
When one takes possession of a car as quick as a Huayra R, safety cannot be taken lightly. Thankfully, safety was one of Pagani's top priorities while developing the new Huayra R.
Integrated in the carbon fibre monocoque is a complete safety cage which incorporates composite materials. These materials absorb as much kinetic energy as possible in the event of an impact.
Moving to the interior of the vehicle, the Huayra R is equipped with a fire extinguishing system that automatically activates itself in the event of a fire. The seats, which are integrated within the monocoque, are also covered in a flame-retardant material.
It is important to note that the Huayra R is not street legal, so it isn't meant to be driven on public roads. It belongs on the track!
Style
The Pagani Huayra was always a hypercar with a unique, yet attractive design. With the new Huayra R, its design stands out by taking inspiration from race cars involved in the Le Mans and World Sports-Prototype Championship of the 1960s and 1970s.
Horacio Pagani, founder of the brand, describes the car's design by saying that:
"Today's racing cars are focused exclusively on aerodynamics and are largely the product of the wind tunnel. In the 60s and 70s, however, the cars were very fast, certainly dangerous, but beautiful."
It is with this in mind that Pagani took on developing this new variant of this timeless vehicle.