B.C. Reports Record Numbers of EV Sales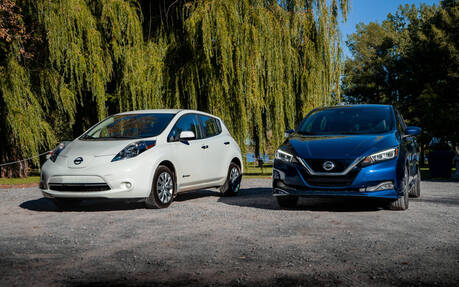 British Columbia had 54,469 registered electric and plug-in hybrid vehicles at the end of 2020, and sales continue to increase at a rapid pace in 2021.
"With the highest reported uptake rates of EVs in North America, B.C. is quickly becoming a leader in the EV industry," said Bruce Ralston, Minister of Energy, Mines and Low Carbon Innovation. 
The result is an estimated 216,000 tonnes in emission reductions per year.
In the first annual report required under the Zero-Emission Vehicles Act, which was implemented in 2019, B.C. says its incentive program (up to $3,000 per eligible vehicle) is driving sales of not only electric cars, but also electric motorcycles and bicycles.
Last December, the province also doubled its rebate for domestic EV chargers and installation costs. As for public charging stations, there are more than 2,500 across B.C.
The Zero-Emission Vehicles Act requires automakers to meet increasing annual levels of ZEV sales to reach 10 percent of new light-duty vehicle sales by 2025, 30 percent by 2030 and 100 percent by 2040. The first of these targets will not be a problem as EV sales in B.C. currently represent 9.4 percent of the market.
Elsewhere in Canada…
In Quebec, electric and plug-in hybrid vehicles endured a tough year due to the pandemic yet continued to gain new followers. As of December 31, 2020, there were 91,519 registered EVs on the road—short of the goal of 100,000 set by the government in 2016 but still more than half of the entire EV fleet in Canada.
La Belle Province offers the most generous incentives in the country with up to $8,000 for an eligible electric vehicle and $4,000 for most plug-in hybrids.
Nova Scotia, which earlier this year became the third province to launch an incentive program (up to $3,000), has just under 500 registered EVs at the moment.
Beginning this spring, consumers in Prince Edward Island will also get EV incentives. Whether they purchase a new or used model, they will be eligible to a rebate of $5,000 plus a free level 2 (240V) home charging station.
According to a study quoted by CBC, only 0.4 percent of all vehicles in Atlantic Canada are electric at the moment.
Meanwhile in Saskatchewan, where a lot of consumers are unhappy about the new $150 annual fee set to come into effect in October, there are only 403 EVs registered in the province.